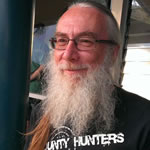 Twenty years ago, wintertime 1997, I began teaching myself the basics about internet publication. Initially, this was hypertext markup language (HTML), hand-coded, later helped along by a slightly more sophisticated set of software tools like FrontPage and Dreamweaver.
With that learning on top of previous experience in paper magazine editing came the germ of an idea to use the online space to publish a magazine. Story-focused, downside-up, and always free. This is that magazine. Twenty years later. Our twentieth anniversary edition is looming, and will be online in February next year.
Edwina Harvey, now a long time contributor to our pages, contributed a story called "Party" to that first issue of AntiSF. And now, almost twenty years later, Edwina's most recent story from AntipodeanSF Issue 221 "There's No Place Like Home" is included in the preliminary ballot (shortlisted) for a 2017 Ditmar Award.
Congratulations Edwina!
Yeah. Bugger it. Let's "Party"...