SF Quotes
" Science fiction writers, I am sorry to say, really do not know anything. We can't talk about science, because our knowledge of it is limited and unofficial, and usually our fiction is dreadful. "
Philip K. Dick
Facebook AntiSF
Login Form
Why Not Visit

Do you like your SF in audio?
Of course you do. Well, why not visit Beam Me Up Podcast and radio show, often featuring selected stories from AntipodeanSF, run by your host Paul Cole of WRFR.
Next Issue
Cappuccino Twilight
By Ed Errington
The Strike
By Grant Terry
The Goodbye
By E A Fow

The Intercept
By Luis Shalako
The Facts In The Case of K Klown
By Anthony Owens
Searching
By Mark Tremble
Art, Ink
By Jason Fischer & Martin Livings
End of An Era
by Antoinette Rydyr
Popular Stories
AntipodeanSF 'online' exists to let the world know that there is such a beast as an Australian (i.e. antipodean) science/speculative-fiction writer. Yet this is not its only purpose...

The name 'antipodean' also indicates that the magazine is based 'down under' in the Southern Hemisphere, where the seasons are all out of whack. Indeed, the literal meaning of antipodes, according to Wordweb Dictionary is, "any two places or regions on diametrically opposite sides of the earth".

Those of us who live in Australia are constantly reminded that we are on the opposite side of the planet with respect to the majority of the earth's population. Just look at the way maps and globes are drawn for confirmation of this one. It's no accident that the north pole is always at the top.

Yet 'antipodean' means more than that within the context of this magazine. While Australian writers are indeed encouraged to submit material, the word antipodean also indicates an ideological mirror, such that the antipodean-ness of a story could reside within the story as well as within the author.

All of the material within AntipodeanSF, then, is selected and edited to conform to the broader definition of the word. It aims to seek out and publish short-short (aka 'flash') stories that somehow flip the mind of the reader into another realm — somewhere diametrically opposed to a "normal" point of view.

In a nutshell, AntipodeanSF wants to bring the 'other' briefly, and sometimes horribly, into view (as most good SF does).

New Books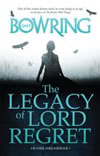 The Legacy of Lord Regret: Strange Threads Book 1
Sam Bowring
Book One of the STRANGE THREADS duology. Centuries have passed since the Wardens slew the tyrant Lord Regret, but while the Wound that he ripped in the sky remains open, the earth trembles and the sun vanishes without warning.
The great warrior Rostigan wanders Aorn, weary of battle and unwanted renown. With him travels his lover, the minstrel Tarzi, who hopes she may soon witness further deeds from him worthy of song and tale. Despite Rostigan s reluctance to re-enter the world, she may get what she wishes for . . .
Read more...