SF Quotes
" Any sufficiently advanced magic is indistinguishable from technology. "
Larry Niven
Facebook AntiSF
Login Form
Why Not Visit

Do you like your SF in audio?
Of course you do. Well, why not visit Beam Me Up Podcast and radio show, often featuring selected stories from AntipodeanSF, run by your host Paul Cole of WRFR.
Next Issue
Cappuccino Twilight
By Ed Errington
The Strike
By Grant Terry
The Goodbye
By E A Fow

The Intercept
By Luis Shalako
The Facts In The Case of K Klown
By Anthony Owens
Searching
By Mark Tremble
Art, Ink
By Jason Fischer & Martin Livings
End of An Era
by Antoinette Rydyr
Popular Stories
New Books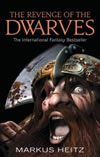 The Revenge Of The Dwarves

Markus Heitz

The international bestselling fantasy epic continues . . .

Life has not been easy for battle-weary Tungdil the dwarf. But this heroic warrior can't rest yet, as he must now face the most formidable enemy the kingdom has ever encountered.
Read more...