SF Quotes
" You have attributed conditions to villainy that simply result from stupidity "
Robert Heinlein, Logic of Empire
Facebook AntiSF
Login Form
Why Not Visit

Do you like your SF in audio?
Of course you do. Well, why not visit Beam Me Up Podcast and radio show, often featuring selected stories from AntipodeanSF, run by your host Paul Cole of WRFR.
Next Issue
Cappuccino Twilight
By Ed Errington
The Strike
By Grant Terry
The Goodbye
By E A Fow

The Intercept
By Luis Shalako
The Facts In The Case of K Klown
By Anthony Owens
Searching
By Mark Tremble
Art, Ink
By Jason Fischer & Martin Livings
End of An Era
by Antoinette Rydyr
Popular Stories
In a nutshell, AntipodeanSF brings the 'other' briefly, and sometimes horribly, into view (as most good SF does).
AntipodeanSF is devoted to the online publication of short-short science/speculative fiction stories (and occasionally other shorter material within that genre).
AntipodeanSF online is archived by the National Library of Australia, and you are able to view past issues by visiting the library on the Internet. Visit the PANDORA archive section.
Stories by Australian authors in AntiSF are indexed for scholarly access purposes by Austlit <www.austlit.edu.au>. Similarly, all stories by Australian authors are automatically entered for consideration into the yearly Aurealis Awards.
AntipodeanSF intends to remain in publication for a long time to come.
Please note that submission of cartoons, quips and very short reviews is also encouraged.
AntipodeanSF is also soon to be produced in audio format, for broadcast on non-commercial radio/podcast.
The best way to contact Ion, the editor, is via the contact page.

New Books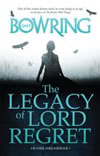 The Legacy of Lord Regret: Strange Threads Book 1
Sam Bowring
Book One of the STRANGE THREADS duology. Centuries have passed since the Wardens slew the tyrant Lord Regret, but while the Wound that he ripped in the sky remains open, the earth trembles and the sun vanishes without warning.
The great warrior Rostigan wanders Aorn, weary of battle and unwanted renown. With him travels his lover, the minstrel Tarzi, who hopes she may soon witness further deeds from him worthy of song and tale. Despite Rostigan s reluctance to re-enter the world, she may get what she wishes for . . .
Read more...