SF Quotes
" The only way of discovering the limits of the possible is to venture a little way past them into the impossible. "
Arthur C. Clarke
Facebook AntiSF
Login Form
Why Not Visit

Do you like your SF in audio?
Of course you do. Well, why not visit Beam Me Up Podcast and radio show, often featuring selected stories from AntipodeanSF, run by your host Paul Cole of WRFR.
Next Issue
Cappuccino Twilight
By Ed Errington
The Strike
By Grant Terry
The Goodbye
By E A Fow

The Intercept
By Luis Shalako
The Facts In The Case of K Klown
By Anthony Owens
Searching
By Mark Tremble
Art, Ink
By Jason Fischer & Martin Livings
End of An Era
by Antoinette Rydyr
Popular Stories

Edwina Harvey is a writer and editor, a silk painter and ceramic artist. (See http://www.celestialcobbler.com to view her work). She's one of the founding members of Andromeda Spaceways Inflight Magazine, which has taught her an awful lot about the publishing industry. With a keen interest in dolpings and whales, she's glad her YA SF novel, The Whale's Tale got published through Peggy Bright Books a couple of years back. Edwina is also known for asking anybody and everybody for a pony (but so far this request has been ignored by all and sundry).

New Books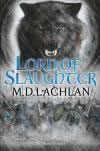 Lord of Slaughter
M.D. Lachlan
M.D Lachlan's century-spanning series of gods, wolves and humans reaches the 10th century and Constantinople, magic, Christianity and intrigue.
On a battlefield strewn with corpses, a ragged figure, dressed in wolfskin and intent on death, slips past the guards into the tent of the Emperor and draws his sword.
The terrified citizens of Constantinople are plagued by mysterious sorcery. The wolves outside the city are howling. A young boy had traded the lives of his family for power.
Read more...