SF Quotes
" Science fiction writers, I am sorry to say, really do not know anything. We can't talk about science, because our knowledge of it is limited and unofficial, and usually our fiction is dreadful. "
Philip K. Dick
Facebook AntiSF
Login Form
Why Not Visit

Do you like your SF in audio?
Of course you do. Well, why not visit Beam Me Up Podcast and radio show, often featuring selected stories from AntipodeanSF, run by your host Paul Cole of WRFR.
Next Issue
Cappuccino Twilight
By Ed Errington
The Strike
By Grant Terry
The Goodbye
By E A Fow

The Intercept
By Luis Shalako
The Facts In The Case of K Klown
By Anthony Owens
Searching
By Mark Tremble
Art, Ink
By Jason Fischer & Martin Livings
End of An Era
by Antoinette Rydyr
Popular Stories
Wesley Parish is an SF fan from early childhood. Born in PNG, he enjoys reading about humans in strange cultures and circumstances; his favourite SF authors include Ursula Le Guin, Fritz Lieber, Phillip K. Dick, J.G. Ballard and Frank Herbert. He lives in Christchurch, NZ, is an unemployed Java and C programmer, and has recently decided to become a mad ukuleleist, flautist and trombonist, and would love to revert to being the mad fiddler and pedal steel guitarist.. "Where oh where has my little pedal steel got to ... ?"

New Books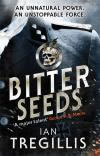 Bitter Seeds
Ian Tregillis
An extraordinary and audacious debut novel - and a chilling supernatural retelling of World War II.
The year is 1939. Raybould Marsh and other members of British Intelligence have gathered to watch a damaged reel of film in a darkened room. It appears to show German troops walking through walls, bursting into flames and hurling tanks into the air from afar.
Read more...