SF Quotes
" If you want to see the true measure of a man, watch how he treats his inferiors, not his equals. "
J. K. Rowling, Harry Potter and the Goblet of Fire
Facebook AntiSF
Login Form
Why Not Visit

Do you like your SF in audio?
Of course you do. Well, why not visit Beam Me Up Podcast and radio show, often featuring selected stories from AntipodeanSF, run by your host Paul Cole of WRFR.
Next Issue
Cappuccino Twilight
By Ed Errington
The Strike
By Grant Terry
The Goodbye
By E A Fow

The Intercept
By Luis Shalako
The Facts In The Case of K Klown
By Anthony Owens
Searching
By Mark Tremble
Art, Ink
By Jason Fischer & Martin Livings
End of An Era
by Antoinette Rydyr
Popular Stories
Contact The Editor
Ion Newcombe
Editor



PO Box 489
Macksville
NSW
2447
Australia







New Books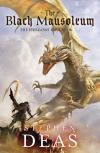 The Black Mausoleum
Stephen Deas
A desperate quest to save a burning world - Stephen Deas returns to the world of his epic dragon trilogy.
Two years have passed since the events of the Order of the Scales. Across the realms, dragons are still hatching. Hatching, and hatching free.
Skorl is an Ember, a soldier trained from birth to fight dragons. He is a living weapon, one-shot only, saturated with enough dragon-poison to bring down a monster all on his own. Misanthrope, violent and a drunk, to fulfil his purpose and slay a dragon, means to be eaten.
Read more...