SF Quotes
" There's no real objection to escapism, in the right places… We all want to escape occasionally. But science fiction is often very far from escapism, in fact you might say that science fiction is escape into reality… It's a fiction which does concern itself with real issues: the origin of man; our future. In fact I can't think of any form of literature which is more concerned with real issues, reality. "
Arthur C. Clarke
Facebook AntiSF
Login Form
Why Not Visit

Do you like your SF in audio?
Of course you do. Well, why not visit Beam Me Up Podcast and radio show, often featuring selected stories from AntipodeanSF, run by your host Paul Cole of WRFR.
Next Issue
Cappuccino Twilight
By Ed Errington
The Strike
By Grant Terry
The Goodbye
By E A Fow

The Intercept
By Luis Shalako
The Facts In The Case of K Klown
By Anthony Owens
Searching
By Mark Tremble
Art, Ink
By Jason Fischer & Martin Livings
End of An Era
by Antoinette Rydyr
Popular Stories
Web Links
Use our hyperspace (okay, text) links to visit other sites that may be of interest to you.
New Books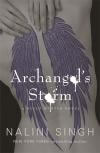 Archangel's Storm
A Guild Hunter Novel
Nalini Singh
Enter New York Times bestselling author Nalini Singh's darkly beautiful world of archangels and immortal power.
Rich, dark, sumptuous and evocative...bestselling author Nalini Singh is back with a stunning new tale in her deadly, beautiful world where angels rule and vampires serve.
Read more...