SF Quotes
" Any sufficiently advanced technology is indistinguishable from magic. "
Arthur C. Clarke
Facebook AntiSF
Login Form
Why Not Visit

Do you like your SF in audio?
Of course you do. Well, why not visit Beam Me Up Podcast and radio show, often featuring selected stories from AntipodeanSF, run by your host Paul Cole of WRFR.
Next Issue
Cappuccino Twilight
By Ed Errington
The Strike
By Grant Terry
The Goodbye
By E A Fow

The Intercept
By Luis Shalako
The Facts In The Case of K Klown
By Anthony Owens
Searching
By Mark Tremble
Art, Ink
By Jason Fischer & Martin Livings
End of An Era
by Antoinette Rydyr
Popular Stories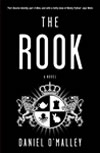 The Rook
Daniel O'Malley
?Dear You, The body you are wearing used to be mine.?
So begins the letter Myfanwy Thomas is holding when she awakes in a London park surrounded by corpses -- all wearing latex gloves (and startled expressions). With no memory of who she is or how she got there, the only way she can discover her identity and escape those who want to destroy her is to follow the instructions in a series of letters left behind by her former self.
She learns that she is a Rook, a high-level operative in the Checquy, a secret government agency that protects the world against supernatural threats while keeping the populace in the dark. In her quest to save herself and unmask a traitor, Myfanwy must learn to harness her own rare, potentially deadly supernatural ability, and thwart a conspiracy more vast than she could ever have imagined.
Richly inventive, suspenseful and witty, THE ROOK is for those who like their thrillers with a dash of sentient fungus and an efficient filing system.
?[An] impressive debut, a supernatural detective thriller distinguished by its adept use of humour ... Dry wit, surprising reversals of fortune, and a clever if offbeat plot make this a winner.? Publishers Weekly
New Books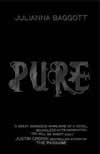 Pure

Julianna Baggott

A stunning coming of age novel set in a richly imagined post-apocalyptic world. For fans of THE PASSAGE and THE HUNGER GAMES this is a fantastic addition to the growing cannon of dystopian fiction.

We know you are here, our brothers and sisters. We will, one day, emerge from the Dome to join you in peace. For now, we watch from afar, benevolently.

Pressia Belze has lived outside of the Dome ever since the detonations. Struggling for survival she dreams of life inside the safety of the Dome with the 'Pure'.
Read more...