SF Quotes
" If you want to see the true measure of a man, watch how he treats his inferiors, not his equals. "
J. K. Rowling, Harry Potter and the Goblet of Fire
Facebook AntiSF
Login Form
Why Not Visit

Do you like your SF in audio?
Of course you do. Well, why not visit Beam Me Up Podcast and radio show, often featuring selected stories from AntipodeanSF, run by your host Paul Cole of WRFR.
Next Issue
Cappuccino Twilight
By Ed Errington
The Strike
By Grant Terry
The Goodbye
By E A Fow

The Intercept
By Luis Shalako
The Facts In The Case of K Klown
By Anthony Owens
Searching
By Mark Tremble
Art, Ink
By Jason Fischer & Martin Livings
End of An Era
by Antoinette Rydyr
Popular Stories
| | | | |
| --- | --- | --- | --- |
| Prophecy - Death Of An Empire | | | |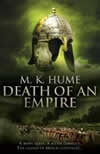 Prophecy: Death of an Empire

M. K. Hume

The second dramatic episode in the heroic life of Merlin.

Merlin's epic quest continues as he journeys to Constantinople in search of his father.

Myrddion Emrys of Segontium is the product of a brutal rape, but when King Vortigern hints at his father's identity, Myrddion embarks on a journey across France and Italy to Constantinople. It is a voyage that is to turn the young healer into a man of great renown. Serving under General Flavius Aetius at the Battle of the Catalaunian Plains, Myrddion saves the lives of thousands of warriors and, on his arrival in Rome, he heals many more, including Cleoxenes, Envoy to Emperor Theodosius of the East, on his way to a delegation with Attila the Hun. But a deadlier conflict between Emperor Valentinian of the West and Senator Petronius Maximus is still to come and Myrddion must use all his strength to carry out his work in a world that is evil.

About the Author

M. K. Hume is a retired academic, who is married with two grown-up sons and lives in Queensland, Australia. Having completed an MA and Phd in Arthurian Literature many years ago, M. K. Hume has fulfilled a lifelong dream to walk in the footprints of the past by retelling the epic tale of Merlin in a magnificent trilogy.

Previous Books:

PROPHECY: CLASH OF KINGS (9780755371440), KING ARTHUR: THE BLOODY CUP (978 9780755348732), KING ARTHUR: WARRIOR OF THE WEST (9780755348701), KING ARTHUR: DRAGON'S CHILD (9780755348671).



New Books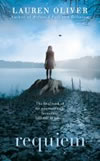 Requiem (Delirium Trilogy 3)
Lauren Oliver
The thrilling climax to the internationally bestselling DELIRIUM trilogy.
I've started dreaming of Portland again. Like a monster from one of the ghost stories we used to tell as kids, the past has been finding its way in. It bubbles up through the cracks when I'm not paying attention, and pulls at me with greedy fingers.
Read more...