SF Quotes
" Any dogma, primarily based on faith and emotionalism, is a dangerous weapon to use on others, since it is almost impossible to guarantee that the weapon will never be turned on the user. "
Isaac Asimov, Foundation
Facebook AntiSF
Login Form
Why Not Visit

Do you like your SF in audio?
Of course you do. Well, why not visit Beam Me Up Podcast and radio show, often featuring selected stories from AntipodeanSF, run by your host Paul Cole of WRFR.
Next Issue
Cappuccino Twilight
By Ed Errington
The Strike
By Grant Terry
The Goodbye
By E A Fow

The Intercept
By Luis Shalako
The Facts In The Case of K Klown
By Anthony Owens
Searching
By Mark Tremble
Art, Ink
By Jason Fischer & Martin Livings
End of An Era
by Antoinette Rydyr
Popular Stories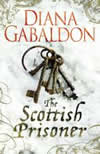 The Scottish Prisoner

Diana Gabaldon

The latest novel from the international bestseller.

In this highly-anticipated new novel, Diana Gabaldon brings back one of her most compelling characters: the unforgettable Lord John Grey - soldier, gentleman and no mean hand with a blade. Set in the heart of the eighteenth century, Lord John's world is one of mystery and menace.

Diana Gabaldon brilliantly weaves together the strands of Lord John's secret and public lives. Capturing the lonely, tormented, and courageous career of a man who fights for his crown, his honor and his own secrets, Diana Gabaldon delivers breathtaking human drama, proving once again that she can bring history to life in a way few novelists ever have.

About the Author

Diana Gabaldon is the internationally bestselling author of numerous historical novels. She lives with her family in Scottsdale, Arizona.

Previous Books:

An Echo in the Bone



New Books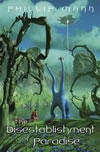 The Disestablishment of Paradise
Phillip Mann
An ecological SF thriller from one of the greats of the genre, with elements of Avatar and Silent Running.
Something has gone wrong on the planet of Paradise.
The human settlers - farmers and scientists - are finding that their crops won't grow and their lives are becoming more and more dangerous. The indigenous plant life - never entirely safe - is changing in unpredictable ways, while the imported plantings wither and die. And so the order is given - Paradise will be abandoned. All personnel will be removed and reassigned. And all human presence on the planet will be disestablished.
Read more...