SF Quotes
" When a distinguished but elderly scientist states that something is possible, he is almost certainly right. When he states that something is impossible, he is very probably wrong. "
Arthur C. Clarke
Facebook AntiSF
Login Form
Why Not Visit

Do you like your SF in audio?
Of course you do. Well, why not visit Beam Me Up Podcast and radio show, often featuring selected stories from AntipodeanSF, run by your host Paul Cole of WRFR.
Next Issue
Cappuccino Twilight
By Ed Errington
The Strike
By Grant Terry
The Goodbye
By E A Fow

The Intercept
By Luis Shalako
The Facts In The Case of K Klown
By Anthony Owens
Searching
By Mark Tremble
Art, Ink
By Jason Fischer & Martin Livings
End of An Era
by Antoinette Rydyr
Popular Stories
New Books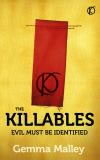 The Killables

Gemma Malley

Groundbreaking, powerful and gripping storytelling set in a future dystopian state from the highly acclaimed author Gemma Malley.

Evil has been eradicated. The City has been established. And citizens may only enter after having the 'evil' part of their brain removed. They are labelled on the System according to how 'good' they are. If they show signs of the evil emerging, they are labelled a K... But no one knows quite what that means. Only that they disappear, never to be seen again...
Read more...