SF Quotes
" There's no real objection to escapism, in the right places… We all want to escape occasionally. But science fiction is often very far from escapism, in fact you might say that science fiction is escape into reality… It's a fiction which does concern itself with real issues: the origin of man; our future. In fact I can't think of any form of literature which is more concerned with real issues, reality. "
Arthur C. Clarke
Facebook AntiSF
Login Form
Why Not Visit

Do you like your SF in audio?
Of course you do. Well, why not visit Beam Me Up Podcast and radio show, often featuring selected stories from AntipodeanSF, run by your host Paul Cole of WRFR.
Next Issue
Cappuccino Twilight
By Ed Errington
The Strike
By Grant Terry
The Goodbye
By E A Fow

The Intercept
By Luis Shalako
The Facts In The Case of K Klown
By Anthony Owens
Searching
By Mark Tremble
Art, Ink
By Jason Fischer & Martin Livings
End of An Era
by Antoinette Rydyr
Popular Stories
Going Critical
Jean Gordon casts her critical eye at recent fantasy, horror or SF and emerges with an opinion that you're sure to love.
| | | | |
| --- | --- | --- | --- |
| The Legacy of Lord Regret - by Sam Bowring | | | |
Review by Jean Gordon
The Legacy of Lord Regret, by Sam Bowring, Hachette Australia, August 2012: Book one of the Strange Threads duology.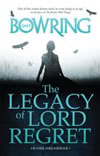 Sam Bowring is a name that's new to me. As it turns out, I must have been looking in the wrong direction, because this isn't his first book. It's not even his first series. Clearly there is a deficiency in my library which I will be hurrying to correct.
I approach new fantasy books, or perhaps I should say new fantasy authors, with both excitement and worry. I want to like their work. I want to love it. But there's a lot of fantasy out there, the genre has grown immeasurably over the last two decades or so, and like anything else a good portion of it is garbage.
So, like many a reader, while I'm always on the look-out for new gems, I am also aware that there's a fairly high possibility that I'm in for yet another Lord Of The Rings rip-off, with a storyline I could almost recite before I read a single page. A bastard son at this point is almost an inevitability, and if you add in a prophecy then you've got the start of a good drinking game.
Read more...
| | | | |
| --- | --- | --- | --- |
| The Lord of Lies - by Sam Bowring | | | |
Review by Jean Gordon
The Lord Of Lies, by Sam Bowring, Hachette Australia, August 2012: Book Two of the Strange Threads Duology.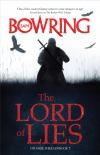 I was very eager to pick up The Lord of Lies. The Legacy of Lord Regret had left me hanging, and I was very much looking forward to what I had every reason to expect would be a conclusion equally as strong as the start. As it turned out, while the book was very good, I don't know that it quite stands up to the first one.
The story picks up directly where The Legacy of Lord Regret left off, with the various players still trying to find (or make) a place for themselves in the world. Some, as one would expect, are doing better than others.
Read more...
New Books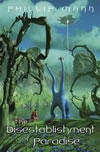 The Disestablishment of Paradise
Phillip Mann
An ecological SF thriller from one of the greats of the genre, with elements of Avatar and Silent Running.
Something has gone wrong on the planet of Paradise.
The human settlers - farmers and scientists - are finding that their crops won't grow and their lives are becoming more and more dangerous. The indigenous plant life - never entirely safe - is changing in unpredictable ways, while the imported plantings wither and die. And so the order is given - Paradise will be abandoned. All personnel will be removed and reassigned. And all human presence on the planet will be disestablished.
Read more...