SF Quotes
" The Three Laws Of Robotics
A robot may not injure a human being or, through inaction, allow a human being to come to harm.
A robot must obey orders given to it by human beings, except where such orders would conflict with the First Law.
A robot must protect its own existence as long as such protection does not conflict with the First or Second Law
"
Isaac Asimov
Facebook AntiSF
Login Form
Why Not Visit

Do you like your SF in audio?
Of course you do. Well, why not visit Beam Me Up Podcast and radio show, often featuring selected stories from AntipodeanSF, run by your host Paul Cole of WRFR.
Next Issue
Cappuccino Twilight
By Ed Errington
The Strike
By Grant Terry
The Goodbye
By E A Fow

The Intercept
By Luis Shalako
The Facts In The Case of K Klown
By Anthony Owens
Searching
By Mark Tremble
Art, Ink
By Jason Fischer & Martin Livings
End of An Era
by Antoinette Rydyr
Popular Stories
Vide
SFnal motes, mites and sprites...
| | | | |
| --- | --- | --- | --- |
| Bitter Seeds - by Ian Tregillis | | | |
Bitter Seeds by Ian Tregillis, Orbit, August 2012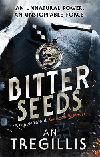 Blurbs for books are an interesting phenomenon. Sometimes meaninglessly positive, occasionally decipherable only after you've read the book, and at their best tantalisingly cryptic. What blurbs usually don't do is encapsulate the core of a story in one pithy fragment of a sentence. Imagine then this reviewer's surprise when he received his copy of the debut novel by Ian Tregillis, Bitter Seeds, and read Cory Doctorow's blurb:
'Mad English warlocks battling twisted Nazi psychics'
Read more...
New Books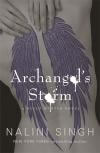 Archangel's Storm
A Guild Hunter Novel
Nalini Singh
Enter New York Times bestselling author Nalini Singh's darkly beautiful world of archangels and immortal power.
Rich, dark, sumptuous and evocative...bestselling author Nalini Singh is back with a stunning new tale in her deadly, beautiful world where angels rule and vampires serve.
Read more...