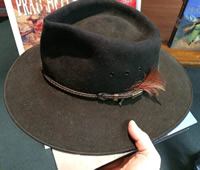 Things change. Funny thing the way that keeps happening.
One day I was young of body and old in my head hanging out with my friends in the library and then suddenly I am old in my head but, hang on that didn't work out the way I planned, anyway there I was racing a Maserati, with the driver making gesticulations translatable without a babelfish as my small cheap held-together-with-bug guts and fencing wire pre-electric gadgets car, over took him and sprayed dust on his expensive paint job, but that is another story for another time and I am supposed to write a bio which goes — I am as old as my tongue, older than my teeth and younger than all the words I speak.
I vowed to learn 25 languages before I die and so far I can count to nine in twenty or so, including Elvin and Klingon so I can do my daily Sudoku to shut my brain up. I can ask for a cup of black tea with milk please, in Russian, Greek, French, cultured English and 'Strine.
Oh and by the way, I tell stories. Sometimes I even write them down.
This bio is accompanied by a photograph of me wearing Terry Pratchett's actual hat.