By Garry Dean

The mighty ship awoke from its long slumber. As air and light filled its cavernous spaces, machines that had lain dormant came to life, including the ship's artificial intelligence, Sally. She had the delicate task of awakening the precious cargo of colonists from almost two-and-a-half centuries of suspended animation. This was humanity's first attempt to reach the stars.
The leader of the colonising expedition, Commander Jefferies, sat in his private quarters, sipping at a large mug of black coffee, contemplating what felt like the worst hangover of his life.
"Hi Commander," said AI Sally in a cheerful voice. Her quantum circuits had been up and running long before the far slower biological brains of the humans even considered coffee.
The foggy-headed Jefferies groaned, lacing his reply with annoyance, "What is it Sally?"
"Well, I have some good news and bad news."
Jefferies took a large gulp of coffee and rallied himself. He was the commander after all. He knew by Sally's tone that the ship was at least not in danger.
"Okay, good news first," he said.
"The ship is fine," Sally said, "as are the crew and the colonists who are waking up as we speak. It has been 243.4 years since we left Earth, and we are currently approaching the outskirts of the Proxima system...our new home."
Jefferies was sufficiently awake to hear the odd inflection she put into that last phrase.
"Okay. And the bad news?"
There was a definite pause before Sally answered.
"You'd better come up to the bridge and have a look."
Jefferies set off. By the time he reached the bridge, most of the crew were there, looking as bleary eyed and confused as he was. After preliminary greetings, and a few yawns, they settled down to work.
"Let's have a look," said Jefferies.
"Data coming in now, Skipper," said Carl, the astrobiologist, "all parameters look great, better than expected." He paused, frowning down at his display. "Hang on, something's not right here..."
"Give me a visual," ordered Jefferies. The Proxima system was close as far as interstellar distances go, but it was still a long way off — its sun only marginally brighter than the rest of the background stars. The onboard telescope zoomed in on the only habitable planet in the system, Proxima b, nicknamed Rhea.
On the main viewscreen was a bluish green ball covered in wispy cloud. It was a beautiful sight and much like the early survey images they had seen — apart from a ring of orbiting space stations.
The crew stared, open-mouthed. What was supposed to be a virgin world, and their new home, appeared to be inhabited. But that was not all. There was something else, something that made Jefferies wish he could crawl back into a dreamless sleep. Above one of those orbiting stations floated a large rotating symbol that was all too familiar. It was the letter M, made up of giant glowing French Fries.
My god, 243 years, Jefferies mused. Suspended animation had proved it's worth but obviously some bright spark had come up with a faster way to travel through space. He examined the stunned expressions on the faces of his crew. As far as Commanders go, Jefferies was resourceful, and always good in a tight spot.
"Well," he said, rubbing his hands together, "who's hungry?"

About The Author
Garry Dean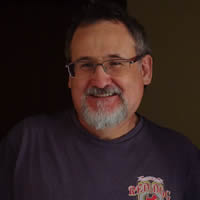 I live on the Mid North coast of NSW and became a space nut at the tender age of eight after seeing 2001 a Space Odyssey. I am a big fan of the classic sci-fi, back in the days when spacecraft were called rockets and landed backwards. Over the years I've had a few stories published in AntiSF, as well as other online mags. Being vision impaired, I make good use of voice recognition and text to speech in order to write. Needless to say, I don't read stories so much as listen to them. Glad I live in an age where audio books, podcasts, and radio shows exist. You can catch more of my stories at: <http://www.garrydean.wordpress.com/>