By Rob Riel

The dogs trot quietly up the stone stairs and through the open gothic doors of the church. Seventy of them, at least. Mostly larger breeds. No chihuahuas. No uncontrollably yappy miniatures are allowed in the church.
The dogs are perfectly silent as they enter, but for the clicking of their nails on the dark marble floor. They jog along the aisle to the communion rail and form a line. A few sit, but most push their snouts through the balusters to see and sniff. A large female mastiff, tall enough to see over the rail, whines softly. The dogs on either side make eye contact, ears back. She lowers her head and tail.
None of the dogs move.
The priestess steps out from behind the altar. Those dogs that are sitting stand, ears erect.
The priestess is a tall, blonde woman, probably in her late 40's. Facing the altar, she intones a few quick lines in Latin. She turns to face the pack.
"Yes, you are welcome here. All of you. You belong, because God has blessed each of you with an immortal soul," she intones. "The difference between human and canine is that each canine soul consists of tiny ghosts. Tens of thousands of tiny ghosts. Human souls consist of a single ghost. Do you understand?"
The dogs bark a joyful assent. Their delighted reaction lasts for almost half a minute — until the big female mastiff darts towards the church doors, which are slowly closing. They all make it out before the doors boom shut.
None of the dogs will ever return, and the priestess will never hear of them again. Obviously, there is no need.

About The Author
Rob Riel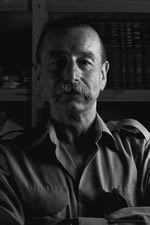 Rob Riel is easily bored. He can't seem to hold onto the same job for more than a few years. He has earned a crust as an electronics technician, officer in the US Navy, metallurgical engineer, assessor in disability services, university lecturer in creative writing, electron microscopist, failure analyst, mentor in HSC English, founder and publisher of Picaro Press, and writer of both poetry and short fiction. He still has a Nuclear Weapons Handling Certificate, but it's expired, dammit. Rob is a serial judge for the Aurealis Awards. He lives in Cardiff, NSW, and is at present is building a new deck for his beloved partner Judy.