By Lee S. Hawke

Harold woke on election day feeling like a data drive was stuck in his throat. He lay in bed for a moment, thinking of how the three million or so people left alive on Earth were probably doing exactly the same thing. It didn't make him feel any better. Instead, he entertained himself by muttering about having to wake up early, take the detour from work, vote, and then hopefully be back before Ms. Pipes, otherwise she'd mark him down in his next performance review.
Buoyed by that cheerful thought, Harold got out of bed. His clothes were laid out in the automatic wardrobe; they had been washed while he slept. His pants were pleasantly warm when he put them on. Not mollified in the slightest, Harold waved his hand in front of the sensor. There was a whirring sound, and some unidentifiable liquid deposited itself into a cup. The cup was put on a plate, joining a sorrowful-looking protein and carbohydrate block masquerading as a sandwich. He ate, brushed crumbs from his new shirt, scowled, and slammed the apartment door behind him just because he could.
The lift was packed. So was the train. Harold remembered the drone of sleep school: ...in the year 2014 there were over 7 billion people... He couldn't wrap his mind around the figure, so he settled for fighting for a seat on the train. Fifteen minutes later, so proud of elbowing his way to a seat, Harold remembered too late that the seats were the furthest away from the door. By the time he exited, the line outside the voting centre was eye-wateringly long. Worse, the sheer amount of people and their ennui had created a sense of oppressive gloom, powerful enough to dim the too-hot sun. Harold resigned himself to being burned, late, and blasted repeatedly by the loudspeakers — adjusted to just the right, impossible-to-ignore, nasal frequency.
"Citizens! Today marks the day of your choice, and the 1054th year of free and equal democratic elections! Democracy made this great country even greater, and has kept us alive through the toughest of times. Choose carefully today, citizens, and determine your future!"
There was a brief, blessed few seconds of silence, barely long enough to be called a pause, and then it started again. "Citizens! Today marks the day of your choice..."
Underneath the onslaught, the line crawled with brutal efficiency. The electoral volunteers, all slick and shiny in polished metal wheels, whirred back and forth. Each wore two lanyards, one green and one blue, in a pretext of neutrality. Harold eyed them with suspicion. He wondered if it was possible, in the true sense of the word, for machines to volunteer.
The voting centre had once been a hotel, back when there had been enough people moving around to fill these sorts of places. When he reached the top of the line, Harold was escorted by a volunteer to Room 314. Wires curled around the ceiling and fed into a screen the length of his arm, hovering helpfully at eye level. It flickered to life as he stepped in and the volunteer closed and locked the door behind him. The image divided itself into two, one half green, the other half blue. On each half, the face of a woman smiled back at him. "Good morning, Citizen Harold Starling!" they both sang.
"Good morning," he said. He'd tried to smart mouth them the last time (Could we hurry up already, ladies? I need to get to work). He thought he'd gotten away with it, and then he'd been fined two months' pay and had almost lost his network connection. That had been enough for him to hold his tongue ever since. "Please, continue."
The green background filled the screen and the lady smiled. "Citizen Harold Starling," she said. "I am Party M45871C. If you vote for me, I promise that we'll continue controlling humankind's reproduction so that it will never almost destroy itself again, that we'll continue assigning you to jobs befitting your abilities at birth, and that we'll continue investing in our Thermo34192 line to make your home-delivered, state-provided food tastier as well as healthier!"
He nodded. The frozen smile minimised and the green background was whisked away, replaced by blue. "I'm Party X938420E," the other, identical lady said. "If you vote for me, I promise that we'll sterilise 20% more humans for a more sustainable Earth, that we'll reassess current working conditions to make sure humans are matched with their strength of needless bureaucracy, and that we'll put money into a new, Thermo34193 line guaranteed to make your food packages even more delicious!"
The screen changed again, back into halves. The two ladies smiled out at him from their different backgrounds, this time accompanied by a helpful button underneath their faces entitled: VOTE.
Harold spent what seemed like an age studying the two different screens. In reality it was a few seconds. And then, like his parents, and their parents before them, and their parents' parents' parents, Harold chose green. The blue half of the screen exploded into confetti. M45871C smiled at him brilliantly. "Thank you, Citizen Harold Starling! You've made the right choice. Together we can work for a better future!"
Harold stood at the door. The volunteer outside unlocked it, and escorted him from the building. Outside, he saw other volunteers already scurrying to unload boxes and boxes of fireworks in preparation for the celebratory announcement. Everyone standing in the square knew that they'd be green.
Harold stepped into the square and felt the burden drop from his shoulders. He rolled his neck and for the first time that day, smiled. Choice was a hard thing. He was glad they only had to do it once every three years.
Feeling free, he left for work.

About The Author
Lee S. Hawke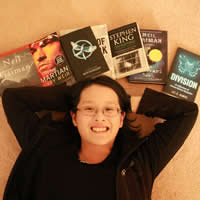 Lee is a science fiction writer by early morning, a technology lawyer by day, and an avid reader in all the other spare moments she can find. She has two dogs, a robot vacuum named Cinderella, and probably spends far too much time online obsessively learning things and arguing with people. You can find her at <www.leeshawke.com> or <@LeeSHawke>.