By Nicholas Sheppard

"Well, that's it," she said as she dotted the 'i's and crossed the 't's on the final theorem.
"You mean, we've proved everything, and there's nothing left to discover?" said her assistant.
"Yes." There was pride in the voice.
"What do we do now?"
"I guess we erase the board."

About The Author
Nicholas Sheppard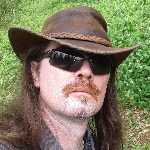 Nicholas Sheppard is an Australian software engineer and academic, currently teaching in Singapore. He has published numerous scientific articles in venues with very serious names, several non-fiction pieces for a less serious mediaeval re-creation group, and occasional pieces of fiction in AntipodeanSF.