By Susan Cornford

I blame it on the Protestant work ethic; nobody wants something for nothing any more. Oh, they say they do, but have you ever seen how much effort people put into buying lottery tickets, playing poker, or going to the race track? They are working their little bottoms off to reap their "free" reward. I find it very depressing.
My problem is that I'm an unemployed fairy godmother or genie, since I can be transgender or multicultural. No Political Incorrectness here! And I keep waiting for someone to rub the lamp. Although, really, even Aladdin and Cinderella paid their dues prior to getting my magical services. Pretty soon I'm going to need therapy to cope with this downer!
So, how about you? Would you like a new house, a new car, a diamond-encrusted Faberge egg? I always like conjuring art works. What do you mean, "Get thee behind me, Satan?" No, no, no! You have me confused with a completely different entity, definitely a bad one. Not me at all. Right, so I can't tempt, I mean... Oh, forget it.
Maybe I could advertise on the Internet with some kind of hook up on eBay to sell off my old magic wands and flying carpets. I could call myself: Boutique Genie for the Niche Market. That should get someone ringing my mobile.
What's that you say, famine and disaster relief? Well, I never saw myself in that arena. But it could be just the thing to solve my problem. Thanks!

About The Author
Susan Cornford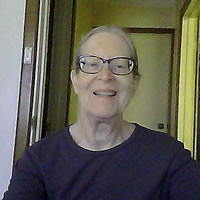 Susan Cornford is a retired public servant, living in Perth, Western Australia, who finally acted on a long-standing intention to start writing short stories. To date, she has (co)won only the one competition but has been short-listed or made finalist for numerous others. She now considers herself an emerging flash fiction writer.