By Andrea Teare

Sol's bauble exploded into crystalline shards, each one catching and reflecting the firelight beneath it before raining over him in a painful shower. "I refused to have one lung removed," he said. "Can you believe it? The world runs out of unspoiled air and the solution is to start reducing how much we can breathe?" He sucked in a deep breath, hearing his chest whistle and wheeze as he did so, "Fat lot of good having two has done me anyway." His face twitched, glowing in the fire of their tree.
"Pity we can't burn that thing too," said Rosha, throwing her arms wide and bellowing at the wreckage of the escape pod that still littered the stark red landscape around them, "...'cos it should have been good for something at least!"
"Specialty survival my ass," grunted Sol, "Should have read 'death trap with all the trimmings'."
"Shut up, Sol!" Rosha said, throwing her own bauble into the Christmas tree fire. "Like anything would have done us much good here." She stretched her hands towards the fire that was still hungrily licking at the little hardwood Christmas tree. It must have been treated for long life. It had lasted way longer than they thought it would. "That's for giving me a boss who thought it was okay to treat me and my sister like slaves, and a judge who thought it was okay to let him." Her face, lit with both the flames and the red glow that emanated from the sunset in the distance, broke into a smirk. "At least I got him before he got anyone else."
Her bauble exploded in a shower of sparks, raining down in a bloody fire that stung their skin and raised blood from their exposed hands.
"I must once again advise against this course of action." MEAH ONE's tinny voice grated through its speaker from where it sat attached to a lump of metal that had once been part of a spacecraft. "You need all the implements you have been given to have the best chance of survival until you are taken to your new hoooooooooooome."
Sol's booted foot connected with the speaker on the last syllable, causing the Intelli-Bot to sail through the air and land with a thump in the fire.
"There's no need for that, people." MEAH-ONE had proven to be virtually indestructible since they had crashed here. Not that it mattered at this point.
"Chuck another one in, Rosha." Sol shuffled from foot to foot. This had been his idea. Born of long days with little food and no hope of growing it here on this barren rock — aeons further away from the planet they were supposed to land on. "What do you think the others did to get them onto the sinking ship?"
Rosha pulled another glittery ornament from her pocket and dangled it over the dying flames.
"Tarry's little sister had a baby." She swung the ornament back and forth to the rhythm of her words. "An extra one. One she put at the collection point the night after. Tarry couldn't bear to let the baby boy go so he took him home. Till he got busted. His own stupid sister dobbed him in." Sol could still hear Tarry's voice, thick and heavy, with the trademark wheeze they all suffered. The whining roar that accompanied every snippet of speech, every breath of foreign but familiar air that had grown worse with each dust storm they had suffered through. Now that the water had gone, Sol's croak was a last gasp. He'd be joining Tarry soon enough no matter what.
"Once again I tell you, stop. Make shelter, ration your remaining food and water. Wait for help." MEAH-ONE was the only voice unaffected.
"That's it. I don't care if our demise is only hours away, I can't take that thing for another second!" Sol picked up an iron rod and waved it above MEAH-ONE in the slowly shrinking flames. "If you speak another word I'll grind your face into the embers." Even though they were empty threats full of final bravado, the little machine paused and reset.
"Please instruct me on how best to assist you, sir." MEAH-ONE was ever patient, ever helpful, but ultimately useless. MEAH-ONE was ship Intelligence, not a colonist, and knew little about botany, or survival on a strange planet.
"Shut your hole or I'll shut it for you." Sol ran his fingers through his white blonde hair, dyed pink by red dust. He looked unhinged, his voice breaking in uneven tones. "I wish we'd had a choice when the ship was disintegrating. Not just the first pod available. If we'd had a choice, maybe we'd be here with people who could actually make a go of it. And with supplies that mattered. Not first aid, a few weeks of food and water, and a specialty capsule that had a fucking Christmas tree and decorations in it!"
Rosha laid cool fingers on his arm and tugged gently so he would sit down beside her in the dust. "But we didn't," she said. She stared at the dwindling fire.
"I hope you feel a little better now. We won't make it through another day without water, so let's just sit shall we? Make the most of the time we have left?"
Sol used the rod to flick MEAH-ONE out of the last of the fire and sank down next to Rosha. "Not a bad fire for such a little tree," he said at last. "I just hate giving up, you know." He stretched out a hand.
Rosha took it and held it calmly in her lap.
"Merry fucking Christmas," said Sol.

About The Author
Andrea Teare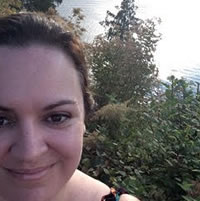 Andrea Teare writes Science Fiction, Fantasy and Horror short stories. She is currently working on her first novel. Her work will appear in the upcoming anthology 'Revenge' from Horrified Press. She lives in Sydney with her family.