By Mark Webb

In the time before time, when the gods walked the earth and miracles were made manifest, the great demon Bilkie poured all of his hatred and contempt into the forging of a blade. A blade linked with destiny. A blade that would one day be called "Godslayer" by the lesser men that inherited its terrible purpose. The story of its journey to the sleepy town of Riversrun is a long and beguiling one, but ultimately not worth the telling when compared to the greater tale that was to come. Because little did apprentice baker Chiara know that he was fated to be united with the blade, and together they would carve a bloody path to fame and...
What? You've got to be kidding. I can't believe he slept in again. Hang on a second, wasn't today the day he was supposed to meet the travelling wizard? Can we get the wizard back? Yes, yes I understand that she has an itinerary. I'm not arguing with you, villages may very well depend on her for charms to survive the winter. But we're talking about a moment of destiny here. No? Oh, for the love of...
... The King and Queen were beloved rulers, and their popularity soared to new heights when they introduced their beautiful baby daughter to the people. But unbeknownst to them, envy lay in the heart of the King's brother, whose coup was as bloody as it was efficient. The Princess would have shared her parent's terrible fate if not for the valiant sacrifice of her loyal bodyguard, who threw himself into an unwinnable battle with the Duke's henchmen to give the baby's nursemaid time to escape the castle. And so the Princess was raised by peasants in the wild lands near the Ice Troll border, never suspecting that her true destiny would one day reach out to drag her...
What is it this time? She fell in love with who? Oh come on, who falls for a shepherdess in this day and age? What about her duty to the kingdom? She said that the kingdom could go where, and then do what to itself? Look, I grant you she was brought up in a swamp, but that still doesn't seem like very princess-ey language to me...
... When Darmen's parents were lost in the great plagues at the turn of the Century of the Bat, he quickly learned to do what was necessary to survive on the mean streets of the greatest metropolis on the continent, Syneston. Taken as apprentice by the master thief Crylock, he grew from a snivelling child into one of the most notorious rogues the city had ever seen. Some called him lucky, and maybe he was. Escapes from death defying situations became commonplace, and eventually Darmen realised there was a power inside him. A power that, if he learnt to harness it, could lead him to change the world and free the people from the evil...
He did what? But those are parlour tricks, only a tenth of what he could do if he trained properly. Well yes, admittedly, that would be enough to impress some of the small minds in his immediate circle. And yes, it does seem like he's carved out a pretty sweet segment of the criminal underworld. Okay, Okay, calm down. King of Thieves is a very impressive sounding title. But he was supposed to save the world...
...
...
Okay, that's it. I'm tired of this steaming pile of dragon turds we call candidates. Tag every potential hero under the age of 18 in the thirteen kingdoms and set up the cauldron to record them all. Yes, I know we've already used up 62% of the available space, we'll just have to take the chance that it doesn't skip one of the good ones. Let's see which of these ungrateful little shits actually does something with their life, then we'll go back and edit in all the destiny crap later. I'm not creating a prophetic backstory for every single one of these lazy losers on the off chance we happen to stumble across the "chosen one" before we both go completely bonkers.
I don't know for how long. What am I, the all-seeing chrono-oracle? Just set it for a decade. Yes, I understand She could check in on us. But in all the multiverse, how likely is that? It's only 10 years, come on, live a little. We'll be back before you know it.
Now, where can you find a decent drink in this piss-weak little dimension?

About The Author
Mark Webb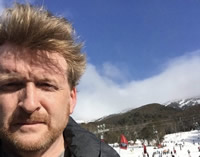 Mark Webb's midlife crisis came in the form of attempting to write speculative fiction at a very slow pace. His wife maintains this is a good outcome considering the more expensive and cliched alternatives. Evidence of Mark's attempts to procrastinate in his writing, including general musings and reviews of books he has been reading, can be found at <www.markwebb.name>. His fiction has appeared in AntipodeanSF, the Beam Me Up podcast, Robot and Raygun and Electric Spec.
Mark has published a short (free!) collection of his AntipodeanSF stories (with the exception of this story of course), called "A Flash in the Pan?", through Smashwords at <http://www.smashwords.com/books/view/253852>.