By Chris Cole

It was the wrong side of midnight, at least in this part of town. Jess was tired. She had run too far, too fast. Shaking her head to clear it, she blinked hard into the shadows, searching, probing. She'd put some distance between her and her pursuers. Possibly too much. The harder she bent time, the farther she could run, but it left traces, drew attention, made her easier to find. There really was no free lunch.
While her definition of what was possible had definitely taken a turn for the surreal in recent times, the laws of physics were what they were. Every time she moved "sideways", bending the timelike part of her local spacetime, they knew. It was like wading through a pond; the faster she moved, the bigger the ripples. They could follow her wake, and she knew they couldn't be far behind.
She pulled her beaten up duffle coat more tightly around her, jammed her hands in her pockets and strode on, but in real time. If she could get to Jacob's place before they caught up with her, she was sure she...they...would have a chance. He'd been doing this for years. He knew how to disappear, hide, survive. She wasn't sure exactly how long he'd been doing this. He looked to be in his late thirties, which was as good an estimate as any, as far as Jacob's personal, subjective timeline was concerned. After all, while speeding and slowing your own local time flow could have profound effects on how long the rest of the world thought you'd been around, humans still age at just the same rate in their own timeframe.
Meeting other "benders" was always interesting; they may have been skipping their way forwards through time since the renaissance, or even earlier, but their faces still betrayed their actual years. You weren't about to run into some baby-faced teenager with centuries of life experience. This wasn't Twilight, or Underworld. There would be no interviews with a young, hot, but 200 year-old Brad Pitt.
They were a pretty eclectic bunch. Some chose to skip through the world, slowing their own timeframe, hibernating somewhere safe while the rest of the world barrelled on through time, essentially pressing the FAST FORWARD button for the rest of humanity while they chugged away in their own slower version of time, effectively becoming time-travellers into the future. It was fun, and profitable; it's amazing what a small bank deposit can turn into, with a dash of compound interest, and a little (okay, a lot) of time. It was also dangerous, if your chosen place of solitude proved to be a little less secluded than you might have hoped. It can take a few moments to speed back up, and when you've been bending hard enough that the rest of the world is careening around you at a rate of a day per minute or thereabouts, a few moments for you can mean a few hours of apparent coma to the confused folk who find you. Dragging yourself back to "flat" takes it out of anyone at the best of times (a bit like struggling awake in the morning while having openly homicidal thoughts about your alarm clock). Having to do the same, while well-meaning doctors and nurses are sticking lines and tubes in you is just a whole other level of craptacular. Explaining your way out of it is a pain in the ass, too, but most of the time they just figure you have a weird seizure disorder, or were faking it, and no-one really tries to stop you leaving. The real problems arise when you're discovered by someone who knows who, or at least what, you are. Waking up to find a nurse shoving a catheter into you starts to sound strangely attractive, given some of the alternatives.
Others preferred to live fast, and die "young". With a tendency to be fans of The Flash, or X-Men, these benders pushed hard in the other direction, speeding up their own time flow, effectively slapping the SLOW MOTION button for the rest of the world. Like Hammy with an energy drink on board, they appeared to move at superhuman speeds, while to them, everyone else seemed to be moving through treacle. The applications were protean. Simple but clever theft was a popular route to financial independence. It was handy for tackling exams, too. What does a time limit mean to someone who can take all the time they like? As far as she knew, no-one had been spotted overtly bending time in professional sports. Questions still hung over Usain Bolt, and pretty much every cyclist in Le Tour de France, but it was generally considered that most sane benders would be fearful enough of the unwanted attention it would draw to make "cognitive-temporal doping" a non-starter.
Most benders dabbled in both sides of the equation, and usually in moderation. As with most things, the extremes held danger, and pain. Pushing hard into the future meant having to watch your loved ones age, and possibly die, without you. Spending too much of your time being The Flash had quite the opposite drawback, with your contemporaries watching you age prematurely.
Jess hurried along the street, avoiding the oil-sheened puddles, and ignoring the occasional lewd invitation from the night urchins. She pulled her phone from her coat pocket, rattled off a quick text message to Jacob. "You'd better be home", she muttered, moving to slip her phone away. She paused, glancing around self-consciously as she wiped her blood-stained hand on her coat. The blood wasn't hers. She pocketed her phone, feeling the other hard, metallic object in her pocket. She closed her hand around it as she turned a corner, looking up with both relief and heightened anxiety vying for top billing as she saw Jacob's apartment building up ahead. Exhaling sharply, she started walking a little faster.

About The Author
Chris Cole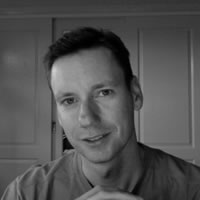 Chris is an enthusiastic devourer, and occasional hopeful creator, of compelling science fiction. An antipodean devotee of Douglas Adams, Terry Pratchett, Orson Scott Card, and crepes that have been cooked just right, he dodges marsupials en-route to work, and spends vast periods of time staring at the sky. In his spare time, he struggles to improve his disc golf handicap, and occasionally lends a hand in sorting out the sick and injured hairless apes of the world. He may or may not be far too familiar with 8-bit computer games from the 1980's.