By Laurie Bell

"I'm retired."
"Jel, we need you."
"Retired," I said again, leaning back in my chair. His face took on a ruby glow. I wasn't to be deterred. I interlaced my fingers and tucked them behind my head. He could try all he liked, but I wouldn't fly another race.
"Jel," his lips tightened. He was going to crack his jaw at this rate.
"Nope."
His hat landed on the table between us. Evidence of his frustration. They could pay me ten times more than what they were offering and I wouldn't change my mind. They could pay gold even, and I wouldn't blink. I don't race anymore. Heck, it had been over five years since I'd sat in the cockpit of a space racer. Even then, I'd known my reaction time was slowing. My sight had been failing for too long and I'd started making silly mistakes. Mistakes I never would have made when I was younger.
I'd hung up the wings when I was on top and it had been the best decision of my life.
Charlie didn't see it that way.
My once-agent rose and stomped to the ice unit, pulling two frozen bottles from inside. He popped both lids and passed me the smoking beer, I clicked the lip of my bottle against his and relaxed back into my chair.
"It's to raise money."
I didn't move. "What for?"
"Does it matter?" One eyebrow rose as he said it.
He knew better than to ask me that. I waited, sipping at my beer slowly. The fingers wrapped around the icy glass were wrinkled now. My nails were longer now too, but that didn't disguise the scars and torn cuticles.
"You were the best short course pilot this side of the Milky Way. Jel — better than the men, better than the kids. No one flew like you did. It's to raise money for pensioners, the ones they cut off from funding. These last cuts, Jel, surely you see how bad it's going to get."
Damn. It was a cause close to my heart and Charlie knew it. I'd been speaking out for years, shouting into a vacuum, becoming hoarse with impotent rage. All to no avail. Damn. "You bastard."
His eyes lit up. "You'll do it?"
One more race. Did I have it in me? "I won't win."
"You won't have to, Jel. Just being there will bring out the wallets, bring out the people. We just need you there."
My stomach was churning — flipping zero G's and I hadn't even stood up. "I'll need a ship."
"We already have one."
"And a crew."
"Anyone you want."
My hands twitched, feeling the control stick already beneath my fingers. "What about that new tech — the remote system?"
He paused. "Fly remotely? In a race?" He rose again to pace the empty space in front of me. "Nah," he said, "I don't think so. You'll have to be prepared to get out there. They'll want to see you out there."
"How far?"
"Venus."
Two hours in the seat. Could I still do it? I held my hand flat. The tremor was barely noticeable, but to me it was like an earthquake. I clenched my fist and gave him a sharp nod. "I'll do it."
***
Race day dawned clear. The bucket seat cradled my form like a lover. My heartbeat was slow and steady. Take off was only minutes away. I held the stick with gentle fingers. Beneath me, the engines throbbed. I barely felt them. All I could see was clear skies.
"Ready, Jel?" Betah, my engineer, spoke into my ear — crystal clear through my helmet speaker.
"Always," came my superstitious reply. Just like the old days. I breathed out slowly, and goosed the engines. They roared beneath me as the stocks were pulled from the landing struts.
One minute.
Win or lose wouldn't matter today. I was here and we'd raised a record amount. I grasped my necklace in my free hand. I knew this would be my last race. My doctor's voice replayed in my mind. "Jel, your body won't handle another race. The pressure is too great. The dizziness will hit quickly, shortness of breath soon after that. In seconds, you'll lose consciousness. I can't recommend this course of behaviour. This will kill you."
What a way to go.
I'd missed this, the anticipation, the terror, the anxious swirling in my belly. I'd missed the fire in my blood and the pounding of my heart. Space is so quiet. So timeless. So endless. When the light from the planet behind you fades and all you can see is black ahead, it is a moment suspended in time when anything was, is, and will be possible. It is soul-destroying and life-affirming in one breathless heartbeat.
Either way, I'd won.
"Three, two, one. Blast off."
I slammed my hand down, pulled the stick back and headed into the stars.

About The Author
Laurie Bell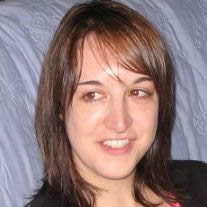 Laurie Bell lives in Melbourne, Australia. She was that girl you found with her nose always buried in a book. She has been writing ever since she was a little girl and first picked up a pen. From books to short stories, radio plays to snippets of ideas and reading them aloud to anyone who will listen. You can read more of her work on her blog <www.solothefirst.wordpress.com> Look for her on Facebook <www.facebook.com/WriterLaurieBell/?fref=ts> or Twitter: <@LaurienotLori>