By Laura Solomon & Kerryn Young

I fell from the sky on a Tuesday. Came down full of piss and thunder, but terrified too, what the hell was happening? I was a rebel angel. Once on earth I donned dark glasses and tight black jeans, rode a Harley, and obtained two tattoos. On my left arm, a dragon, on my right, a white lotus. People were scared of me, an effect I did not mind. I felt like a god in disguise. I picked up a mini-skirted girlfriend called Tiffany with an eighties perm and a lip piercing and I was set. Planet Earth? I thought I owned the place.
I was God's gift to women; a tiger in the sack. My pet hatred? Red lights. Didn't see the point in them. Wrote to the council about it — Dear Mr So and So — never got a bloody reply, damned if I could figure out why. So I just started running right through them; rules were made to be broken. Nobody got hurt — that in itself was a miracle. I was a safe driver though, nothing dangerous about me. Tiffany used to get right nervous when she was on the back of the bike, but pop a Valium in her and she'd calm right down.
Same thing for screaming kids in the supermarket — another pet hate of mine — but give 'em a Valium when Mum wasn't looking and everybody's happy, especially me, which is the most important thing, I need to concentrate when I'm buying my booze and smokes.
I was a lone wolf, too proud to belong to any gang. I operated solo. I had my own bachelor pad, complete with rotating heart-shaped bed and mirrors on the ceiling. Tiffany made a great custom made duvet cover with a tiger on it and fluffy blue trim. There was a bar in one corner of the bedroom and a bar in the lounge too. Blue LED lights were on display throughout the house. A finishing touch.
Money? Luckily for me Tiffany was loaded. Her dad was a banker in the city and sent her a big fat cheque every month. She was very generous — she helped me afford my pad. My days were spent smoking, drinking and doing drugs. In the back of my mind, I had a vague inkling that I had been sent to earth for a purpose. When I saw a rock musician on stage I would feel guilty that I had somehow let the side down. There had been another aspect to this mission on earth and it had involved music. Unfortunately, I had not mastered any instrument, in fact, I hadn't mastered anything at all, apart from making Tiffany giggle. Tiffany was a hairdresser. She said it fulfilled her.
I know it might sound crazy but one night the Big Fella appeared to me in a dream. I can't really recall what he was saying 'cause I was half-smashed but it was something along the lines of pull your socks up buddy or you'll be going back where you came from. Course I didn't pay it any mind. Just a stupid dream.
But bugger me days if the next week I wasn't driving home from the pub when I took one red light too many and came face to face with the grill of a logging truck. Lights out. No camera. No action.
God was self-righteous as was to be expected. Got a bit too big for your own boots. He thought I needed to be brought down a peg or three. Maybe I'll get a second chance one day because I miss Tiff terribly, especially the good times we had beneath that tiger-imprinted duvet.

About The Authors
Laura Solomon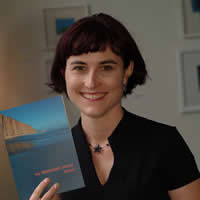 Laura Solomon has a 2.1 in English Literature (Victoria University, 1997) and a Masters degree in Computer Science (University of London, 2003).
Her books include Black Light, Nothing Lasting, Alternative Medicine, An Imitation of Life, Instant Messages, Vera Magpie, Hilary and David, In Vitro, The Shingle Bar Taniwha and Other Stories, University Days, Freda Kahlo's Cry and Brain Graft.
She has won prizes in Bridport, Edwin Morgan, Ware Poets, Willesden Herald, Mere Literary Festival, and Essex Poetry Festival competitions.
She was short-listed for the 2009 Virginia Prize and the 2014 International Rubery Award and won the 2009 Proverse Prize. She has had work accepted in the Edinburgh Review and Wasafiri (UK), Takahe and Landfall (NZ). She has judged the Sentinel Quarterly Short Story Competition.
Her play 'The Dummy Bride' was part of the 1996 Wellington Fringe Festival and her play 'Sprout' was part of the 2005 Edinburgh Fringe Festival.

Kerryn Young

Kerryn Young is the mother of 2 children. She lives in Nelson, New Zealand, where she enjoys the sunny lifestyle.She has always dreamt of being a writer and has enjoyed working on the 'Sammy series'. Her hobbies include writing, reading and farming on a lifestyle block in St Arnaud.