By C A Clark

"We travel light years across the universe and for what? Just to die in a jungle eaten by cannibals? Ugh, these ropes are too tight." The one-piece spacesuit hugging the captain prevented rope burns.
"Long hair suits you, Captain. It is not often we have enough planet time to let our hair grow out." The science officer flicked a shaggy lock away from his face.
"Trust you to look on the bright side. I prefer the buzz cut. Less sweaty," the captain growled.
"My goodness, it is warm in this environment. I wonder why they left us until last?"
"We no eat women." The voice snapped their heads up at the approach of the tribal chief, "We eat what need."
"Your syntax is rudimentary but marvellous since you did not speak galactic norm yesterday. How did you learn so fast?" The science officer squinted up at the giant.
"Ate information officer, still digesting, can't eat communications officer."
"Because she's a woman?" The captain was more curious than worried.
The gigantic chief nodded. "Yes, we no eat women."
"We don't eat women is the correct form." The science officer could not help himself. "Why don't you eat women?"
"We don't eat women. Eat brave men for bravery, eat wise men for wisdom, eat strong men for strength, clever men for thinking."
"How very misogynistic..." The sneer on the captain's face equalled the sneer in her voice. "So you simply kill them and think that makes you a better person? How ridiculous!" Pain etched the captain's face. "They were my people and you wasted their lives with your barbaric practices."
"No waste. All of person absorbed. Nothing lost. Become part of memory and body. I am still here, Captain." The tribal chief's voice changed into a more familiar cadence and his face seemed to ripple momentarily into sharper planes and ship-pale skin, then snapped back to the tanned robustness of the planetary native. "Nothing lost."
The captain let her head drop so they could not see the tear sliding down her cheek. She lifted her shoulder and wiped her face as best she could then looked up, angry again. "You absorb the men you eat, but what do you do with women?"
"We no — don't eat women — they too complex. Women belong to jungle. We eat him next, he smart." The chief undid the ropes around the science officer and grabbed his thin upper arm, lifting him to his feet.
The captain watched, helpless, as the last of her people disappeared into the greenery with the chief. She wondered where the women were if they had not been eaten. The heat of the jungle wrapped around her, sapping her energy. She let her head drop and listened to the quiet hum of insects and birds, just staying in the moment, trying to ignore the inevitable end. At the edge of her hearing she imagined the voices of her companions calling as if from far away. Her communications officer whispered encouragement in a dozen languages, the medics and mechanics, the chief engineer, and the maintenance crew, all laughing and murmuring encouragement to their captain, helping to ease her aching heart. She fell into a light doze and her dreams filled with the voices of women.
"We are here."
The captain looked at her chief engineer, a willowy woman draped in a diaphanous gown of green gauze dotted with leaves.
"All present and accounted for." The statuesque form of a redheaded crew member smiled gently. Her tall muscular body was covered in what looked like moss.
"It will be alright," a small second-generation ship child grinned from under the brim of a hat woven from vines. "It doesn't hurt. Come play with us."
"Captain, Captain, wake up." A rough hand shook her. "Come on, there's not much time. Are we too late, are you the only one left?" Distant angry screams wafted through her head as her mind woke up.
The captain struggled to her feet and nodded. Several men in emergency rescue crew uniform stood around her, pointing weapons at the trees.
"Our hopper is only twenty metres away. Come on. Now!"
Twenty metres became a nightmare of tripping vines and tangling roots. At the hopper, the crew burnt and slashed at roots that had wound around the landing gear. The captain thought she heard shrieks of pain. "Get in, fast, or we won't be able to leave."
The captain stopped at the hatchway. "Don't leave us. Captain?'" She could hear them. She swung her head back toward the jungle, but the others pushed her into the cabin. "I hear my crew," she said. "They're calling me." She tried to return to the hatch but someone pushed her into a seat and strapped her in.
"You heard the jungle, ma'am. Let's go." The little hopper jerked as it launched. Vines attempted to latch on, but snapped back under the pressure. "How many crew did you take down with you?"
"Twenty. It was a distress call. They ate the men."
The captain pressed back into her seat and covered her face with her hands. "The women belong to the jungle." A weary voice echoed her pain. She looked at the captain of the hopper and saw loss in his eyes. "I have to go back. My women are down there in the jungle. I heard them calling."
The hopper crew looked at her with varying shades of sympathy and grief.
"No ma'am, your women are the jungle now. We all hear them calling."
Most of the crew nodded or looked out into the vastness of space.
The hopper captain turned to her. "You can't go back, there is nothing recognisable left of your crew."
The captain closed her eyes.
One of the hopper's science crew said, "It's getting smarter, sir."
"We'll put up a warning beacon."
"It won't be enough."
"I know."

About The Author
CA Clark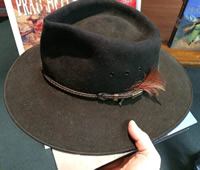 Things change. Funny thing the way that keeps happening.
One day I was young of body and old in my head hanging out with my friends in the library and then suddenly I am old in my head but, hang on that didn't work out the way I planned, anyway there I was racing a Maserati, with the driver making gesticulations translatable without a babelfish as my small cheap held-together-with-bug guts and fencing wire pre-electric gadgets car, over took him and sprayed dust on his expensive paint job, but that is another story for another time and I am supposed to write a bio which goes — I am as old as my tongue, older than my teeth and younger than all the words I speak.
I vowed to learn 25 languages before I die and so far I can count to nine in twenty or so, including Elvin and Klingon so I can do my daily Sudoku to shut my brain up. I can ask for a cup of black tea with milk please, in Russian, Greek, French, cultured English and 'Strine.
Oh and by the way, I tell stories. Sometimes I even write them down.
This bio is accompanied by a photograph of me wearing Terry Pratchett's actual hat.