By Pamela Jeffs

The water laps outside the hull. The gentle slap of salty brine is a lullaby to remind me of other days; days when I could feel a kind breeze on my brow, and sunlight on my skin — days before I was chained to an oar bench in the dark hold of Davy Jones's phantom ship.
Light does not penetrate here except for a thin beam filtering in through a section of broken caulking. It does not break the darkness of the hold, but instead marks a bright day outside, one I will never see. Around me, that same darkness hides the features of my fellow prisoners, but their heaving breaths rumble on, a soft roar of sound that is both quiet and loud. These people pull at the oars as I do.
This is the eternal punishment given to First Mates who mutiny against their captains — and fail, just as I did.
I may not be able to see their faces but I can recognise some of my fellow prisoners by the scent of their sweat. The man to my left smells like onions, the one to my right like salt. I can only imagine what I smell like, but it won't be the scent of gardenia I once favoured. In this place we are never permitted to talk so I don't know the true names of Onion and Salt, but I have hauled oars by their side for a hundred years now, making these men as close to me as brothers.
I try to avoid it, but always my thoughts turn to my old captain, Tyrell. A bastard of a pirate, cruel to his men and crueller to the human cargo he hauled illegally across the straits. I remember the day he made me walk the plank, the first woman ever to do so aboard his ship. I still feel the burn of the rope he used to tie the cannonball to my ankles, the pressure in my lungs as it pulled me down deep into the water, and the burn of salt in my throat...
That day had been bright, an azure arc of sky reaching down to touch the horizon at both sides of the world. The sea, as I remember it, was a sparkling swatch of blue cloth rippling into the distance, the sun a fierce golden sphere above us. But the kindness of the day was not held upon Captain Tyrell's vessel, The Revenge.
The deck was a mess of scarlet with a pile of black-skinned bodies stacked against the mast. The bloodstained deck boards looked slippery, a treacherous hazard for footing already made uneven by the rolling swell of the ocean. As First Mate, I had been permitted to stand clear of the chaos. At the wheel, I watched the events unfold below.
A woman was dragged up from the hold, her fine ebony skin glowing like black metal in the sunlight. Despite her incarceration, her dark eyes were full of fire. I recognised her. I'd seen her fighting on the beach the day she was captured. She was the warrior woman with twin blades flashing, slicing, cutting — the tribal chieftain's daughter.
As she was led past the mast, her eyes fell on the corpse of her father, stacked there with the other warriors who had broken free and led the below-deck attack the previous night. I saw grief flare in her eyes, saw the tiny stumble of her feet that could have be mistaken for uneven footing on the moving deck. But beyond that she showed nothing. So proud and so fierce were those slaves Tyrell had taken from the coast of Africa.
Tyrell — long, blonde beard and wide-brimmed hat — stood formidable upon the deck. His red mongrel dog sat loyal by his side, red tongue lolling. Tyrell seemed un-cowed by the glare the woman fixed on him. Instead, he smiled at her, white teeth glinting. And then in mock salute to her status, he raised the bloodied sword hanging from his bloodied hand
"Kneel," he said to her, but even I could see she would do no such thing.
"You kneel before me, Pirate King," she'd replied.
The men had laughed. Tyrell's face had darkened. And I'd found myself unexpectedly inspired by the woman's outright defiance of a man I inherently feared. Suddenly, I didn't want to see her lying dead like her father.
I gestured to the cabin boy standing by my side. "Hold the ship steady."
I remember him looking frightened as he grasped the wheel.
I headed for the lower deck, my hand held lightly to my small sword.
I watched Tyrell gesture to Boatswain. The large man, a powerhouse of muscle, stepped forward and dragged the woman to her knees. She fought him. She fell hard.
I saw her features twist with pain.
I pulled my sword free.
I lunged at Tyrell.
His dog barked.
He moved.
I missed.
And now here I am.
I steady my rapid breathing. If I think too much on the injustice of my fate, my despair gets the better of me. Last time, I'd started screaming. The ghouls that guard us saw me removed from my chains, whipped, and strapped to the mast for a full season. The dead can't die again, but that long exposure under the blistering sun and thundering storms had made me wish I could.
I feel a hand reach over and squeeze my wrist. It's Onion. His gesture conveys his message. Settle yourself, Darlin'. Not worth going up again.
He's right. So I bite my tongue. But my mind still churns. I am a mutineer surrounded by mutineers; if united, surely we could fight our way off this ship.
I just need a plan.
My heart rate settles while my mind sorts through options. I re-adjust my grip on the oar, "I'll be coming for you, Tyrell," I whisper.

About The Author
Pamela Jeffs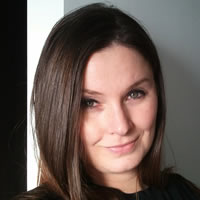 Pamela Jeffs is a prize-winning speculative fiction author living in Brisbane, Queensland with her husband and two daughters. She has had her short fiction published in various anthologies including the 'Perspective' by Geelong Writers Inc, 'The Lost Door' and 'Nocturnal Natures' by Zimbell House Publishing and the forthcoming 'Lawless Lands: Tales from the Weird Frontier' by Falstaff Books. Pamela is very proud to also have two of her works now included in issues of AntipodeanSF Magazine. When she isn't being a writer, Pamela has a background in Interior and Exhibition Design where she has had the good fortune to work with a multitude of talented artists. Graphic, sculptural or literary; Pamela has learnt that art presents in the most surprising of ways and can be found in the unlikeliest of places. For further details about Pamela, visit her at www.pamelajeffs.wixsite.com/pamela-jeffs or follow her via Twitter @Pamela_Jeffs.