By Maria Arena

The spider had twelve legs.
Twelve!
Revulsion swept through me as I eyed the beastie in the centre of its web. Man, oh man, is that what the scientists get up to during their rotations? I thought, and shuddered. Hadn't they read The Island of Dr Moreau?
The web extended from the rickety fence to the light pole, blocking the footpath.
Droplets of moisture shimmered on its silken threads, and it was these that had caught my attention as I jogged along the pre-dawn street. I'd pulled up fast. In the grey light, the spider was blacker than a wormhole, but nowhere near as inviting. As I stood before it, deep breathing into lungs used to thinner air, and contemplated tearing down the web, the spider turned its cephalothorax and looked at me, multifaceted eyes glinting.
'No way.'
I stumbled back a step and scrambled towards the road. 'Live and let live, right beastie,' I said, jogging on, and I could've sworn I heard a triumphant insectile buzzing in reply. I picked up my pace and made for the intersection that would head me back towards the barracks.
Why the geneticists felt the need to mess around with the species that had missed the Arc was beyond me. What did they hope to achieve? It sure as hell didn't make life more appealing on this side of the Bridge, and if they kept it up, I'd be putting in a request for de-rotation before my next scheduled diplomatic jaunt. Screw inter-dimensional compassion.
I reached the intersection and took a right. The muscles in my thighs and calves hummed with energy, and the crisp air flowed over my body, cooling my skin with delicious, soft fingers. Mutant spiders aside, this world still had some delights.
The first boy surprised me, coming out of the dimness, silent as a wraith. My focus was on the faded white line that my feet followed like a trail of breadcrumbs, and my heart, already pounding, did a double take when I glanced up and saw him. Without thinking, I veered towards the other side of the road, noting as I did his thinness, the blank expression on his face, and his languid pace.
He seemed oblivious of me.
Dismissing him, I ran on and saw the girl. She was about fifteen paces behind the boy: waifish, short blonde hair, legs bare. I frowned. Maybe crime had diminished with the population reduction on Old World, but that didn't make it safe for her to be wandering the streets in the pre-dawn.
I surveyed her face; she didn't see me either.
The second boy was ten paces behind her, and looking straight at me. His eyes were dark holes in his still face, and I immediately thought of the twelve-legged arachnid hanging in its web like a black tumour. Adrenaline spurted into my bloodstream but, as I prepared to sprint, I saw a third boy, on my side of the road and directly ahead. His arms, wiry as bamboo stalks, were spread wide as though he meant to catch me.
What the hell?
I slowed to avoid a collision, and an eerie mewling disturbed the morning quiet. I glanced over my shoulder and saw that the first boy and the girl had swung in behind me, while the second lad was closing in on my left. Their arms were outstretched and their fingers quivered as though seeking each other. I faltered, and the mewling intensified.
A wash of horror swept over me. The boy on my side of the road was drawing some type of filament from his mouth and was weaving it into netting, which he draped between his body and outstretched hand.
I shook my head in disbelief. Those damn scientists—
They came at me before I finished the thought, moving fast; but I was faster. I darted between the two boys and shied left as something shot over my shoulder; a strand of sticky netting. My legs pistoned, firing with panic, and the mewling turned into a high-pitched, angry trill as I opened some distance on them. Ahead was a low rise and I took it like a gazelle, leaping up the slope even though my muscles screamed with fatigue. Only when I reached the crest did I stop and turn.
The sun had tipped into the sky, banishing the shadows from the ramshackle street where the four of them stood looking up at me. The first boy in the group released a cry, loud as a cicada, and started forward. The others followed him. As they came, each one drew the sticky filament from their mouth, looping and weaving their nets, their pitiless eyes never leaving me.
Screw this shit, I thought, and turned for the barracks. I wasn't due back on New World for another two Bridges, but I knew someone in Transmissions who owed me a favour that I could call in. I jogged around a bend and skidded to a halt. In the centre of the road was a woman in a lab coat. Beside her was a girl, dark-eyed and thin, who gave a chirping call when she saw me. Four voices answered her.
The scientist tapped her notepad, and lifted her dispassionate eyes to mine.

About The Author
Maria Arena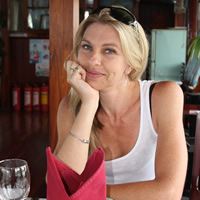 Maria Arena resides on the Sunshine Coast, Queensland, where she spends her days immersed in words. She has two published novels MIRA FALLING and SISTERHOOD, and a third novel, SHROUDEATERS, due for release in 2017. Her most recent short story, THE IN THE WAKE OF TRAINS, was published in The Paragon Journal.
When she is not writing, Maria teaches creative writing for the University of the Sunshine Coast and The University of Southern Queensland. For more information about Maria and her work, please visit <www.mariaarena.com.au>.