By Miranda Forman

"Mom, guess what? Xalu and I are engaged!"
"Oh, honey! I'm so happy for you! When's the big day?"
"Um, I don't know. We haven't gotten that far. I was just calling to let you know."
"Sarah, you can't wait too long between the engagement and wedding. People will talk. You need to start planning so you can make sure you have everything you need."
"Um. Sure."
"You'll need a caterer, photographer, officiant, baby dragon, a Certified Mage to ensure the vows are properly binding. I mean I know you love Xalu, but you can't trust — "
"Thanks, Mom. I'm glad you're so excited for us."
"Of course! You know, the unicorn tears will be quite an expense, and difficult to obtain, but you just have to have them. It's not a wedding without unicorn tears on the bridal cheeks."
"Yeah. . . That's not really — "
"Sarah, you're so stubborn! You'll understand someday when you have your own daughter. You'll want the very best day of her life to be filled with all the right things, so she can remember it forever, the same way I remember my wedding day with your father."
"You're divorced."
"That's not the point."
Xalu rolled his eyes from his perch on the couch.
"Mom, I've got to go," Sarah said.
"Love you! Bye!"
"That sounds like it went well," Xalu clacked. One of his tentacles stirred an intoxicating beverage. He'd contacted his parental units a few minutes earlier. The conversation hadn't gone much better.
"Do you want a baby dragon to poop glitter on us and a Certified Mage to enchant your penises?"
"No."
"Then let's elope. We can get married on the moon."
"Perfect."

About The Author
Miranda Forman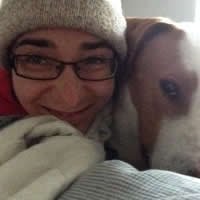 Miranda lives in Atlanta with her husband and dog. Her superpower is that she looks good in all hats. She teaches English to middle schoolers and occasionally updates <http://mirandaforman.wordpress.com>.