By Matthew Harrison

"What makes working in Nathan Rose so special?" the girl gushed.
Samantha saw from the badge that her name was Hermione. She looked healthy — rosy cheeks were always a good sign — just that she was a little slimmer than the firm preferred.
"Well, Hermione," Samantha began, "that's a very good question..."
The young people gathered round expectantly. It was the firm's open day for potential new recruits and, the briefings over, it was time for questions over cocktails. As she scanned the fresh faces — Hermione's already flushed with drink — Samantha reflected on the providence that sent them an unending supply of youth.
"It's not just our litigation success — although we have plenty of that!" she laughed. "Nor is it our international presence, which lets us give our best interns postings overseas." (There were appreciative murmurs.) "Or our pro bono work, which we find appeals to today's young people." (More murmurs.)
"No, I think it's more than anything because we're a friendly firm to work for," she concluded. "Everyone here is so nice — isn't that right, Jake?"
Her fellow partner, tanned and impeccably-dressed Jake, had joined the cocktail party to survey the prospective recruits. "Everyone except me, Sam," he smiled, showing strong white teeth. "I'm the firm's ogre."
Hermione giggled; she obviously thought him rather a dish.
"I must keep you from the young ladies, then!" Samantha said smartly. She shepherded her gathering to the litigation partner, who was conveniently at hand. As she moved on, she heard the partner launch into the story about the Queen's Counsel and the wrong trousers.
The cocktail went on. The young guests enjoyed themselves, Samantha spread the good word about the firm. A young man followed her about, spellbound. At length, she shook him off and found herself again with Jake at the back of the room near the drinks stand.
"What do you like about the firm, Jake?" she asked him quietly.
"The quality of their claret," he said, raising a red-filled glass. "You should try it."
"No thank you, I know how you make it."
Then Samantha had another thought. "How are the cellars, anyway?"
"Running a bit low," Jake said ruefully.
"What?" Samantha pretended to be shocked. "After — what was it? — five interns?"
Then she relented. "We can let you have one of these to be going on with; just one, mind. Which one do you fancy?"
Jake looked coy.
"That Hermione girl?"
Jake looked across the room. "She won't last long."
"All right, then. Her now, and that young man later?"
"Done," said Jake.

About The Author
Matthew Harrison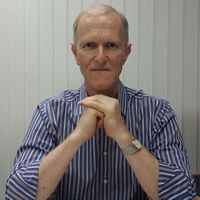 Matthew Harrison lives in Hong Kong, and whether because of that or some other reason entirely his writing has veered from non-fiction to literary and he is currently reliving a boyhood passion for science fiction. He has published more than eighty short stories and is building up to longer pieces as he learns more about the universe. Matthew is married with two children but no pets as there is no space for these in Hong Kong.