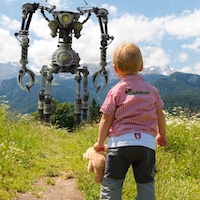 G'day, greetings, and bonjour. Welcome. You're about to launch into an adventure at AntipodeanSF, the online magazine that's devoted to the regular monthly publication of fabulous and original science-fiction, fantasy, or horror mini-stories of about 500–1000 words each, with occasional feature stories of 2000 words and beyond.
AntipodeanSF will entertain you, get you out there, and land you in places — perhaps with creatures you never expected to imagine — yet won't take hours to read.
It's my pleasure to present you with this month's stories.
Read on...
Nuke.