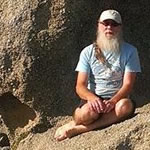 For a rather more than a while after its birth, AntipodeanSF issued forth onto the intertubes from a rather isolated spot called Whip Mountain, thus proving isolation is not necessarily a barrier to involvement.
Or did it? What about conventions, and awards, and other spec-fic gatherings? At the time I didn't see the need to do that.
It took some persuading on the part of others for me to go to my first social SF event in Brisbane, the Aurealis Awards in early 2009. Well, that was an experience both positive and negative for this ionic substance, dressed in thongs and t-shirt to a full-on frocking thing. Okay. Nevertheless. From little seeds…
Thus inoculated it took me till 2010 to train myself (literally on the XPT) to Sydney and to really start having fun and making friendships at awards ceremonies. Great FSM, it took me about 12 years to finally meet with AntiSF's very first contributor Edwina Harvey. Slow or what?
I no longer live on the Whip, but in little suburban Nambucca Heads near the beach — and this Jollyfish is loving that. Conventions? — they're now another bane to isolation in this holiday seaside township, and AntiSF, along with me and my turning-pages partner Elizabeth, well, we have plans to SF-con it at least twice a year in the foreseeable future.
Here's to our future:
Conflux 14, "The Unconventional Hero" in Canberra, September 29 – October 1 2018, with whispers of purple dragons and trivia, and a promise to self to check the recorder functionality first.
Continuum 15 "Other Worlds", in Melbourne, June 7 – 10, 2018 my cold old haunt, celebrating AntiSF Issue 250, visiting my sister, panelling, recording yet again, and catching up in person with the ASFF mob.
And more...including Natcon 2019 in Perth, and tentatively Worldcon 2020 if that happens in enzed Wellington.
Hope to see you too!
Nuke.