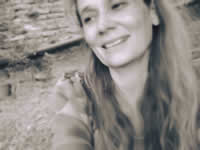 Joanna writes about herself:
I was born and raised in Australia and have been writing short stories for a number of years now. I have had a number published in both books and magazines, including;
"The Weaverman of Askhan Bazaar" in Outposts of the Beyond 2015
"Ulla's Gift," in Independent Ink Magazine 2012.
"Palmerino's Dream" in Stupefying Stories 2012:
"The Fish of Al-Kawthar's Fountain" and " The Moon-Keeper's Friend" - short-stories forming part of the book anthology series entitled Clockwork Phoenix : Tales of Beauty and Strangeness.