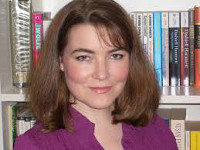 Deborah Sheldon is an award-winning author from Melbourne, Australia. She writes short stories, novellas and novels across the darker spectrum.
Some of her titles include the horror novels Body Farm Z, Contrition, and Devil Dragon; the horror novella Thylacines; the romance-suspense novella The Long Shot; and the collections Figments and Fragments: Dark Stories, and the award-winning Perfect Little Stitches and Other Stories (Australian Shadows "Best Collected Work 2017").
Her short fiction has appeared in Quadrant, Island, Aurealis, Midnight Echo, Breach, AntipodeanSF and many other well-respected magazines. Her fiction has been shortlisted for numerous Australian Shadows Awards and Aurealis Awards, long-listed for a Bram Stoker Award, and included in various "best of" anthologies.
Other credits include TV scripts, feature articles, non-fiction books, stage plays, and award-winning medical writing. Visit her at <deborahsheldon.wordpress.com>