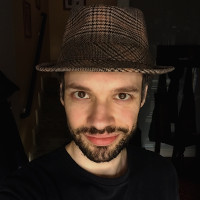 François Verret studied literature at Rosemont College, in his hometown of Montreal. On top of writing fantasy and science-fiction, he is a translator and a homemaker. His sister Aimée Verret is also a writer.
François has been a big fan of the Harry Potter books since he discovered them late in his teenage years. Some of his favourite recent reads come from Nnedi Okorafor, Becky Chambers, and Joanne M. Harris.
In his free time, François plays video games, especially of the role-playing variety. Pizza and ramen are his great food loves, though good sushi is unbeatable.
Oh, and he draws The Mr. Biscuit Webcomic (mrbiscuit.blog). Biscuit would say this is one of his main duties. You can find more about this author at <fverret.com>