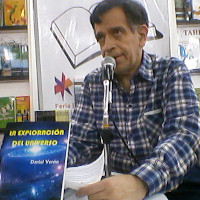 Daniel Verón started writing at the age of ten, and an early story of his was selected for a UNESCO anthology, but he also spent a lot of time researching "space issues" as he was growing up.
He subsequently formed the Enigma Group of Investigation of UFOs and other Mysteries, which for many years produced radio programs on different topics and today owns collection of sci fi sagas, fantasy and terror stories plus essays on scientific topics and the world of the future.
Daniel also gives talks on the sci fi genre and exhibits books at various book fairs. He was recently credited as the creator of "cosmological sci fi" based on discoveries in the field of quantum physics coupled with philosophical speculations to give an explanation of the origin and end of the universe.