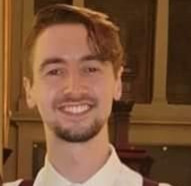 Daniel Purcell lives with his girlfriend in Scotland.
He studied English at the University of Liverpool — where he was born —and has travelled extensively around the world, living in America for six months along the way.
He mainly enjoys writing and reading speculative fiction.
He has upcoming short-fiction being or already published with Farther Stars Than These, two Black Hare Press anthologies (Dark Drabbles - 'Oceans' and 'Ancients'), 101 Words, a Rogue Planet Press anthology ('Unexpected Turbulence,' in the Halloween 2020 edition), Eerie River Publishing ('The Beast in the Black Isle' in It Calls From The Forest Volume 2) and Iron Faerie Publishing (FAERIE Anthology).