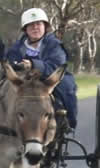 Edwina Harvey is a freelance writer and editor, silk and ceramic artist and sporadic library worker.
She's written two SF books — The Whale's Tale and The Back of the Back of Beyond, edited a growing number of fiction books for Dragonwell Publishing and Peggy Bright Books, including co-editing two anthologies — Light Touch Paper, Stand Clear and Use Only As Directed with Simon Petrie. She has mentored emerging authors and nurtured their manuscripts.
Edwina is a dolphin and whale geek, horse and donkey geek, but has absolutely no aptitude whatsoever for housework.