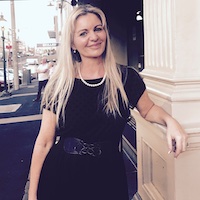 Juliette Cavendish was born in Liverpool UK and is of Welsh and Norwegian heritage. Juliette has an interest in Artificial Intelligence and Quantum Science and writes in both Science Fiction and Contemporary Fiction genres. Juliette was fascinated with space as a young child and dreamed of being the first astronaut to visit Jupiter. Her passion for all things space is now being vicariously undertaken through the creative narratives in her novels. She weaves the familiar into unpredictable future scenarios whilst experimenting within the fields of genetics, quantum science and cosmology.
​She has published four novels to date -
'Project IQ' (sci-fi)
'Ziforah' (sci-fi)
'The Psychopath Who Nearly Lost His Arm' (contemporary fiction)
'Consequences' (contemporary fiction/metaphysical)
She is currently working on her third sci-fi novel, 'The Third Thought' which is due out in late 2022.
​She is a keen life-learner and has undertaken a variety of degrees and courses in order to learn and digest as much about life as she can. These include a Bachelor of Music from the Sydney Conservatorium of Music, Sydney University. A Masters in Education specialising in Research Methodologies with distinction from CSU, and a PhD in Metaphysics from IHMS in which she graduated with High Distinction. She also holds Professional Certificates in Astrophysics, Indigenous Reconciliation, Holistic Counselling, NLP, Meditation and Health. She is now completing a Certificate with Harvardx, studying Einstein and Relativity.
Juliette has been engaged in a number of activities during her career. Originally starting out as a classical musician, Juliette held a number of positions as an orchestral clarinettist, composer and bassoon teacher. She had a newspaper column in theatre/music reviewing for a number of years, and has written for regional newspapers (music and political journalism). She was a regular guest on ABC morning breakfast radio, has been engaged writing federal political campaign speeches, and has taught senior English and Music. She now writes full-time.
​Juliette currently acts as a writing mentor for new authors, speaks regularly in the areas of Cyber-Bullying, global children's literacy and Climate Change. She is currently the President of the Australian Science Fiction Foundation. In 2022 she has been invited to speak to the Youth of Pakistan to encourage young people to read books.
​She is also an international award winning photographer, having won awards in Paris, Moscow, Budapest, Tokyo, Hong Kong, Sydney and New York. Her photography can be found at <www.juliettecavendishphotography.com>.