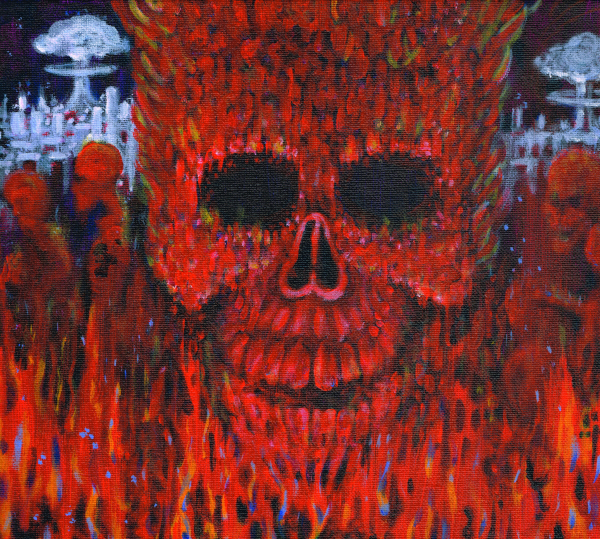 ---
By Shaun A. Saunders

'...then one day,' said the lesson books, 'every Headbook account in Itopia received an additional one million 'friends', all added by a glitch in the Great Tabulator. Nonetheless, a new era of peace and unquestioning happiness descended like a heavy comforter across the great consumer nation.
'For seven days, a new Eden blossomed.
'Then, during the Sunday midnight auto self-maintenance schedule, the Great Tabulator corrected the errant photons.
'A black pall descended upon the land; the President spoke thus:'
(accompanying images appeared on the lesson books)
'There is no escaping the simple fact that today, our great consumer state of Itopia has four hundred million, million less friends than it did yesterday...This is the greatest psychic shock that has ever befallen our great state.
'You cannot help but take this personally, and the question is, who is responsible for this torment?
'We will not stop until the perpetrators of this most foul crime are found and dealt with according the the fullest extent of our considerable means.
'We will not stop until our lost friends are returned to us.'
'The situation quickly deteriorated into international disputes, economic sanctions, the complete dislocation of diplomatic relations with neighbouring city-states, and, finally, pre-emptive and retaliatory strikes…'
(the video feed changed to cotton trails of destruction across the skies, brilliant atomic flashes, then charred corpses, blackened ruins and radioactive wastelands)
'...until there was no one left to friend.'
(the page cleared, reformed and displayed in plain text:)
'Studies of Terra: translated excerpts of historical archives
A mammalian primer'
'Turn off your books,' the teacher rasped then said, 'Class, what have you learned from today's story?'
Skith answered first: 'That warm-bloods are stupid?'
Several of his egg-mates hissed in agreement, their heads swaying.
The teacher could not help gaping — it was funny. She raked a talon against the scratching block on her pedestal, brought order, responded, 'In the strictest, fullest sense, yes. But what other meaning can be found?'
In the second row Krutj narrowed her eyes, raised a forelimb. 'That, eventually, the natural order of selection and fitness always prevails? Unfit species do not survive.'
'Again, that is so,' the teacher agreed. 'But I am looking for an analysis specific to today's case study.'
Rhael spoke next, the dull thwump of his tail striking the stone floor, demanding attention as befitted his status:
'Their social currency was meaningless: it had no intrinsic value of its own.'
The teacher's scales shifted colours in approval. Vibrant golds and reds replaced the previous softer hues:
'Very good Rhael. A meaningful social currency must mirror an economic one — it must establish an equitable and realistic basis for honest social interactions and exchanges. Just as economic systems of exchange must have an objective physicality to back them, such as gold, palladium or rhoo stones, social systems must also be based on a meaningful, practical system of exchange and credit.
'In our social system, what is this objective fabric that sustains all interactions?'
Rhael's inner lids flashed across his slitted pupils. 'Might!'
'Yes. Reward and punishment, to be precise, but, ultimately, those terms can only be expressed by virtue of might. Rhael, if you had one million of these 'friends' as described in today's teaching, what would that mean?'
It was clear that he thought heavily, his neck folds pulsing slowly. Finally, he said, 'That could only mean one million allies, but there is still the question of rank. They cannot all be of the same rank, as that would preclude leadership and effective action. Each would wish to have their own way. So, there must be a leader, which could only be myself, then, or one of those million.' Quietly, he added, 'I would hope that the leader would be me.'
'What would you do as leader of those one million allies?'
'Express my will. I would use my might to gain more allies, that is, what the mammals miss-labelled as friends.'
'And if you were not the leader?'
'Then I would carry out the commands of the leader, so that they could express their might. If I were strong, and capable in battle and like thought, then I might one day rise higher in the ranks of those million. By the Great Egg, there is always a leader; by action and will, one hatchling always rises to the top. It is the natural order of things.'
'What would you do if you lost an ally — our equivalent of a warm-blooded's friend?'
'It would depend on the action that preceded that outcome. Outside of a glorious death, such an action could only be hostile: for example, if my ally crossed me. Hostile acts can only be resolved in a righteous manner. If I were crossed, then I would indeed use every scale of my might to vanquish the former ally.'
'What if you were the crosser?'
His tail thumped. 'That would never be. I would rather cut off one of my own limbs than act without might.' Then, by way of example, he raised a forelimb and bit off the second talon. Cool green fluid spurted across the closest egg-mate.
Again, the teacher's scales shifted colours, arousal obvious in the brilliant bands of turquoise. It would be two moon cycles before the digit was naturally replaced. Rhael was a natural leader. All thought of the long-lost mammalian species depicted in the history lesson had been replaced by an urge to lay a clutch of eggs, and soon.
***
Rhael instinctively knew he would have to move quickly. Other male students were twitching like marionette spiders to the lure of the pheromones the teacher was producing in unconscious response to Rhael's blood scent. His vision constricting, Rhael hissed, snapped at the air, and tail-swiped the nearest egg-mates as he plodded thunderously toward his new mate.
The class was over. Such was the natural order of things.

About The Author
Shaun A. Saunders
Shaun Saunders lives at the beachside suburb of Merewether, in Newcastle, NSW. He particularly enjoys Asimov's Foundation universe, and stories from the 'golden age' of SF. He is a regular contributor to AntipodeanSF, and winner of 2003 & 2004 AntiSF awards, and the inaugural 2005 SFSSC. His novel Mallcity 14 has been favourably compared with both 1984 and Brave New World.