By Brian C. Mahon

"Oh no," Deimos Ur groans in the pounding bass and rhythmic crescendos hyping the dance floor, "here it comes."
Azura Prime shrugs and plays with a straw. Deimos Ur was having a bad day, and Xuatl finding their table through the crowd did not help.
"Hey X. Strange seeing you here, you know, in my personal bubble, while I'm off the clock," Deimos mutters, refusing to look up from his drink out of some sense of owed politeness.
"D! My main Maker, you say something? I'm feeling a lack of love here!" Xuatl's smile brilliantly explodes in an array of colors that flash in and out of existence.
Azura yells towards Deimos, "What is your deal? I'm trying to have fun, and your mood is deconstructive!"
"My problem? It's— agh! I had a perfectly good framework, an all-waveform framework for the Shaping coming up, and this one—!"
"D means me, Prime," X voices with a wink.
"Throws some particles in the mix! It's trying to make Animate! Again!"
"Not just particles!" Xuatl slides into the booth to cozily interact with Azura. "Particle-waveforms, Prime! It's innovation!"
"It's idiotic, Xuatl!" D shoots back. "Either you have a waveform, which is infinite and glorious, or a particle, which is just there and stupid, exerting stupid little forces and distorting the Shaping's matrix! But you can't go and make both! And you're not making Animate!"
"Oh yes I can, D, and I will! Watch me perforate the matrix so my particles can instantaneously zip in and out from spot to spot to really spice things up!" Xuatl leans in a little more, ionizing the space between X and Prime in suave violet hues, saying sweetly, "Prime won't stop me, will you?"
Deimos slumps down and disconcertedly coddles his drink in translucent crimson.
"I'm not talking work outside of work, X!" Azura snaps, then snatches Deimos' drink to finish it with a single go.
D straightens up to loom over the table, stabbing towards Xuatl through the void and hollering, "Not this time! I'll make waveforms that'll cook those bonds so quick, your particles won't have the chance to Animate!"
X, reciprocating, "That's fine! I got a brand-new idea, in fact, all the best new ideas! I've got self-repairing Animate foundry macroparticles that fix whatever damage your waveforms do to them," X snapped, lighting the whole club instantaneously and never, continuing, "Hit them with whatever you got in your whole single-minded boring spectrum, and my macros will figure out a way to beat it! Knock loose one node, and they come back stronger than ever! I got recipes for isolationists, colonists, and duelists, macroparticles that eat, compete, and won't be beat!"
Deimos Ur slinks even lower into the booth, growling, which turns into an incoherent mumbling as he sees Azura accepts Xuatl's assistance out of the booth to the dance floor.
Azura gives Deimos back his empty glass. "Sorry D, you're great to work with, but I love a Shaper's that's got a little life to them!"

About the Author
Brian Mahon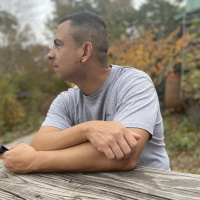 Brian Mahon is a former cook, wanderer, lab technician, submariner, and present day now-and-then writer.
He splits his remaining energies seeking knowledge, fighting age, doing laundry, attempting to join the 1,000 pound club, and using flash fiction as a creativity relief valve.
Further information is available on his website, <www.mahanimalism.net>.