By Alexander Iurovetski

- Obituary -
Today, I am saying adieu to Joe Higgin Smith, our dear Hick.
"Who the heck is Hick?" you might ask me.
Well, his extraordinary story spanned over decades, full of love and hate, friendship and betrayal. Invisible to most of us, yet leading to the rise and fall of titans.
It's a pity I cannot tell you much about Hick's younger years, but I assume those must have been spectacular. Otherwise, how could I meet him at Harvard in 2003 AD, or as we count now, 1 BF? Yes, the honourable event occurred on the verge of the Facebook Era in the lore of its birthplace.
I recall that encounter as if it were yesterday. After six months of struggle since coming to America, I started my dream job of cleaning male bathrooms at the world-famous institution. Going to break the closet drain, I realised that a student was already waiting for me to finish. But the fellow exhibited peerless dignity and elegance. I even doubted he was in genuine need. His good manners and deep respect filled me with unshakable self-confidence. Much later, this advanced my career from rubbing off the toilet wall scribbles to writing on Facebook timeline. I always knew that someday, I would bump into him and boast of my achievements. It never happened in physical life, though.
As you know, things began with memorable FaceMash. Hick was among those three smart ass… Sorry, three wise men who adopted the idea from its advent. Their visionary reactions under a few worthless chick pictures made history.
And since then, he never looked back. For decades, Hick's involvement only increased. With great enthusiasm, he waited for every announced improvement, never whining upon the implementation. Besides, Hick realised that although he was reading, liking and sharing more, the pile of unread posts grew. He dared to admit that he could never cover everything. Still determined to do his best at any price, Hick went on by self-isolating from a successful banking career and other external fuss.
Typical of prominent figures, this decision took a heavy toll on Hick's private life. He lost his wife and kid in a horrible divorce accident. Then even his parents abandoned their great expectations. They condemned the dedicated guy's quest for excellence. Poor old folk viewed his act as social networking for dummies. But Hick was unstoppable from becoming the finest likesmith on the net.
It honoured me to receive his friend request, followed by quiet likes and shares of my humble posts in a generous quantity. For a while, he was the only one who supported my amateurish endeavours. Likewise, out of his eternal kindness rather than personal interest, Hick offered his gentle mobile finger to the uncountable others. Once, I experimented with asking my arbitrary friends to look up who had reacted to their posts. Apparently, Hick topped every single one of those lists. As modern mega-celebrities confessed to me, he was the only person who brought them genuine hope at the dawn of their careers. His unconditional liking pushed neophytes to pursue their goals against all odds.
But he did not support everyone, despite their views. Endless times I saw his signature under petitions to put an end to injustice and sheer cruelty. Only God knows how many unfortunate families and poor animals he salvaged with his compassionate and prompt acts. And how many large corporations have gone bust for their inhumane deeds.
Later on, he even attempted to depose Mark Almighty with angry emoticons under Mark's every post. Hick realised how much power he gave that despicable Jewish guy in the Age of Tolerance. But the unequal battle ended with a sad, though predictable, result: the heartless IT goliath banned him from what made up the essence of his life. The long-awaited backstab gored the humane mission fulfilled with unprecedented tact and respect to mere us. Hick refused to absorb that level of ingratitude and succumbed to a trivial cold. In a few days, this inconvenience developed into meningitis, paving his way to the better web. The death of a champion for human rights to tap and click should raise a valid concern on the future use of social networks. We should rethink the role of people dwarfed by digits.
Rest in peace, Joe Higgin Smith, a dear friend of thousands and the devout follower of millions. Your empathetic likes accompanied by thoughtful sharings we shall never forget.

About the Author
Alexander Iurovetski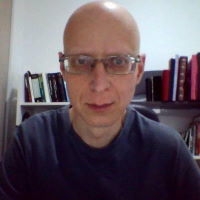 A very few words about myself: impossible.
A bit longer:
Alexander Iurovetski lives in Melbourne, Australia.
He had gone with the wind of freedom from the former Soviet camp to the former British colony.
Alex codes and debugs for the sake of living, and bugs living for the sake of writing.
Occasionally, he helps his wonderful wife to raise their two sweet and mischievous boys.