By Swylmar S. Ferreira, Translated by Toshiya Kamei

The day started out rather strange, and not only because I hardly slept. After all, four and a half hours sleep is hardly enough. But what the hell.
I checked out of my hotel and took a cab to the airport. I was eager to go home after a tough week at work. At the airport cafeteria, I ordered coffee and toast while waiting for my flight call.
As I sipped my coffee, something peculiar caught my eye. A young man in a stained T-shirt wandered aimlessly around the boarding area, a tattered backpack hooked onto his back.
What's wrong with him? I wondered.
"Looks like he needs help," said a woman at the table next to me, pointing to the young man.
Then a desk agent's soft voice came over the intercom, informing that my plane was boarding in a few minutes. The woman got up with a half-smile on her face. I adjusted my backpack and shopping bag. If I didn't bring Adélia a little souvenir, I'd be in trouble.
Boarding was a bit stressful. Another passenger accused me of occupying his seat. He gave up only after a flight attendant checked his ticket and ushered him toward the front. The idiot didn't even apologise.
The flight was supposed to be a short one. An hour, maybe an hour and a half, tops. Unfortunately, that was not the case. Right after takeoff, I grabbed an in-flight magazine and began flipping through the pages. Soon I dozed off, but I was woken a little later by loud shouts, with some passengers crying, others screaming their heads off. A few, like me, had no idea what was going on.
I twisted sideways in the seat, craned my neck, and saw a flight attendant leave the captain's cabin held by another flight attendant and another crew member, perhaps the copilot.
"What in the world is going on?" I asked the man across the aisle.
The man was livid. He had a drool-like substance running from the corner of his mouth. He shook his head as he tried to grab the barf bag in front of him.
I couldn't take it and turned my face away, only to see a woman screaming with a peculiar cut on her palm. Strangely enough, she wasn't bleeding. A cut that didn't bleed? That was too much. I unbuckled my seat belt and tried to get up. A sharp pain in my left leg made me lose my balance. I fell, hitting against the armrest. The pain almost made me piss my pants. I took several deep breaths until the pain subsided. I crawled back to my seat.
I grabbed the magazine again and tried to read but in vain. A sweet substance came out of my nose and went through my mouth. Another bump caused a new round of screams on the plane.
I took my handkerchief out of my pants pocket and wiped my nostrils. I glanced sideways and saw the passenger next to me also had a bleeding nose, as did the man across the aisle, and even the idiot in front. He was bleeding when he got up to go to the restroom, like half of the passengers.
I had never seen something like this before. Things started to calm down somewhat when a flight attendant made everyone sit down and said that if they didn't stay calm they could wreck the plane.
I took a deep breath half a dozen more times and managed to control myself. I screamed a few times during the last few bumps. I turned around and helped the injured woman clean herself. She tried to use the scarf she had around her neck, but she could only use one hand. Despite the look of it, the cut on her hand showed no sign of bleeding. Still, she writhed in pain.
At last, the flight attendant managed to get the passengers to close the overhead compartments and go back to their seats. Even so, the rest of the trip was far from smooth.
After landing, the injured woman was the first to get off, straight to an ambulance that arrived during taxiing. When I limped off the plane, I stole a quick glance at the captain's face. He greeted the passengers as they disembarked. Despite the smile on his face, his eyes were vacant. I wanted to stay as far away from the plane as possible. All the passengers seemed to share my thought.
The airport exit was absolute chaos as always. My phone ran out of battery. I flagged down the first taxi I saw and headed straight home, even though I knew Adélia wouldn't be there.
Our small townhouse faced a quiet street. When I opened the windows, I realised for the first time that the grey rain-laden clouds we had passed on the flight had arrived in the city, or at least in my neighborhood. A cold drizzle was falling, reminiscent of snowflakes. Lying on the couch, I listened to the murmurs of a Saturday morning TV show. My body ached all over, which made me turn off the TV. I shivered with cold.
I woke up to some startling news. An accident occurred near the airport. One of the local TV stations had managed to get close enough and started broadcasting live. Horrific images. The aircraft shattered, mutilated bodies scattered, mixed with metal parts and pieces. Firefighters and rescue workers arrived, looking for survivors. I paid more attention and learned that the accident happened shortly after I landed.
"How come I heard nothing about this in the cab?" I mumbled.
The cab didn't have the radio on. Although short, the ride was unusual. The driver and I exchanged no words. I simply gave him my address and he drove in silence. I handed him a bank note and got out of the cab, without waiting for my change. Not even a single word.
I shivered again. I sat in front of the TV, but it went back to normal programming. I turned it off.
"Something's wrong," I mumbled, alone in the dimly lit room.
I recalled the earlier events, focussing the people I saw, like the shabbily dressed young man at the airport, the tough flight attendant demanding manners from the passengers, the woman with a cut on her hand, and finally the terrified pilot.
But what else? What happened while I dozed off?
Then something more urgent came to mind. Where was Adélia?
With the advent of cell phones nowadays, few households had land lines. We were no exception.
"Where did I put my phone?" I wondered aloud. "I'm an idiot."
"Inside my travel bag, of course," I said. "Where did I put it?"
I found my bag in the bedroom. I opened it and took out my phone. Then I remembered that the charger no longer worked. My spare was in my downtown office, so I gave up. I went to the living room and sat in one of the armchairs, the one in the corner, my favorite.
I began to relax. The TV remote control slipped out of my hand, and a strange image flashed through my mind. I was still inside the plane, except that the cabin was lit so brightly that we could hardly keep our eyes open.
Several people stood in the aisle of the aircraft. They were neither crew members nor passengers. They were strange, tall, rain-thin, their hands with large fingers and without hair. They reminded me of something. I tried to run, scream, but I was paralysed. The strangers were lifting me from the chair. I was floating in the air, and they put me in line behind another passenger. He sobbed and begged to be left alone.
Then I was lying on a bed. In a Herculean effort, I managed to sit up and saw dozens of people on odd-looking beds identical to mine and at each of the beds two or three strange figures poking at their bodies. Two hands grabbed my shoulders, forcing me to lie down. Then a blinding light directed at my face completely immobilised me. I heard screams, calls for help, loud cries from women as well as men. An acute pain in my head made me pass out. But I felt everything.
My leg was cut with something so deep that it seemed to touch the bone. A cylindrical object and other spherical objects flashed before my eyes. They stuck in my neck and hands. A large needle penetrated my eye.
"Lucas?" Adélia shouted, entering the house. "Oh, honey, I was so worried. I was terrified when I heard about the plane crash."
She held my face, kissed me, and burst into tears. As she wrapped her arms around me, an unfamiliar fragrance stung my nostrils.
"What happened to your phone?" She continued. "You should've called."
I remained silent.
Adélia kissed me again and we lay on the couch together.
"Are you all right, honey?" she asked, squeezing my hand.
I hesitated for a few seconds and ran my hand over my neck. I tried to convince myself that it was a nightmare but in vain.
"Yeah," I said, cowering beside Adélia on the couch.

About the Author
Swylmar S. Ferreira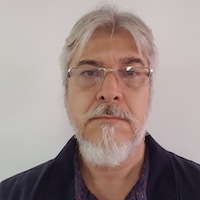 Swylmar S. Ferreira lives in Brasília, Brazil's capital city.
He is a passionate reader of fantastic literature and an apprentice in the art of writing.
Writers he admires include Philip K. Dick, Neil Gaiman, and Stephen King.
He blogs at Fantasticontos, escritos e literários.
About the Translator
Toshiya Kamei
Toshiya Kamei holds an MFA in Literary Translation from the University of Arkansas.
His translations have appeared in venues such as Clarkesworld, The Magazine of Fantasy & Science Fiction, and World Literature Today.