By Tim Borella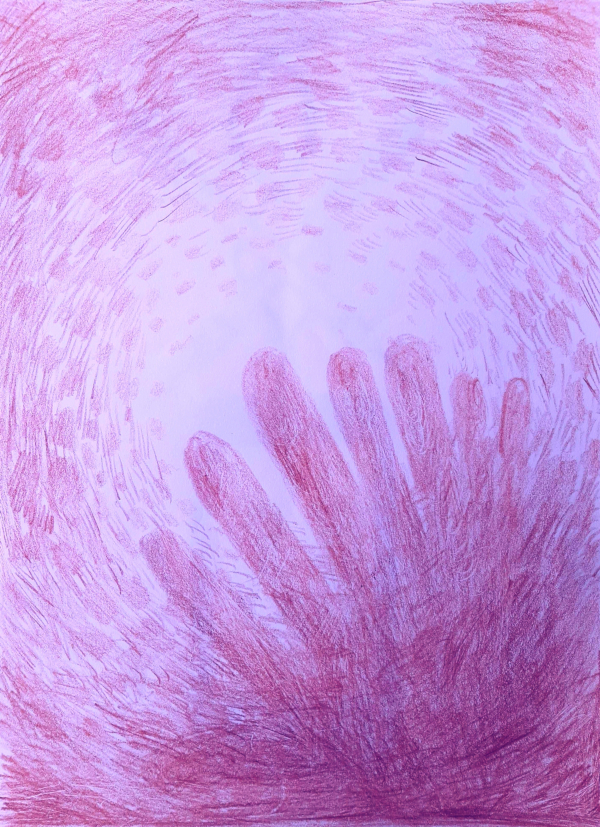 ---

When I walked in, Alex was perched on the ratty old sofa we'd liberated the previous semester, a picture of concentration.
"The fuck you doing?" I said, dumping my bag and suitcase.
He glanced up with a little nod and turned right back to the strange object on the coffee table in front of him, some bizarre, lumpy, misshapen doll.
Apart from the beer cans, the other stuff on the table was like the leftovers from a kindergarten craft session, clay and buttons and all sorts of odd crap.
Alex was always doing weird shit. I grabbed a beer and parked myself in the bean bag to watch as he rolled some clay into a tiny cylinder, then very carefully placed it on the doll's right hand — a new finger. He sat back and surveyed his handiwork.
"There she is — Saint Bibiana. Just about perfect, I'd say," he said, as if he'd just put the finishing touches on the Mona Lisa.
I wriggled myself up a bit and eyed the monstrosity.
"Sorry to be the bearer of bad news, mate," I said, "but she's got, what, eight fingers on that hand and seven on the other? And is that a third leg?"
He consulted a page of printed notes.
"Yep, as I said, perfect. And now we're all ready — great timing. Almost as if it was … written?" He tried for a mysterious look.
"You idiot," I said. "So what is this, really?"
"Like I said, Saint Bibiana. Patron saint of hangovers. My week-long mission has been to boldly track down all records of her holy relics and create this — tribute, if you will."
I snorted, and he looked offended.
"I was bored! Anyway, the magic of the internet has allowed me to do what previously couldn't be done — reunite all her documented parts. There's chapels all over the world built in honour of bits of her, and if the numbers don't add up, well hey, it's a miracle. But now, just one thing remains to be done."
"Do tell," I said.
"Well, it's obvious — we pray to her."
"No, you pray to her."
"Your loss."
With that, Alex cleared a space around the doll and set a coffee mug in front of it, into which he ceremoniously crumpled little bits of paper.
"All the part names, you see."
He held a lighter aloft reverently and brought a birthday candle up to the flame, then dropped the candle into the mug.
"Oh Saint Bibiana," he intoned, as flames rose from the mug. "Visit your holy mercy on us and grant us our wishes."
"I don't think it works that way," I said.
Then three things happened at once. There was a loud thump at the door, then a scraping as if something was trying to get in, and through the frosted glass I saw the shadow of a hand — a hand with way too many fingers.

About The Author
Tim Borella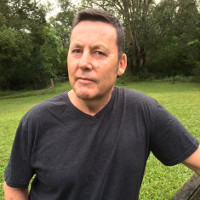 Tim Borella has never lost his childhood passion for SF and writing in general and has been lucky enough to have worked most of his life as a pilot — in other words, he's never properly grown up.
He lives in country Far North Queensland, has won awards for songwriting, and has had various other writing achievements, the most recent being an honourable mention in the 2018 international Literary Taxidermy Short Story Competition.
He also has bachelor degrees in science and teaching, and has completed a couple of as-yet unpublished SF novels. He'd dearly love to spend more time writing, but will have to continue juggling for another couple of years until the kids have fully left the nest.

About the Artist
Michael Connolly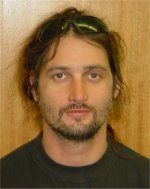 Michael Connolly lives in Bowraville NSW, Australia. He has worked as an art teacher, music teacher, printer and illustrator among other things (such as chicken de-beaker), and has a keen interest in science-fiction and the natural sciences. He has illustrated for the magazine Tabula Rasa, which specialises in the horror genre, and is a regular contributor to AntipodeanSF.