By Malina Douglas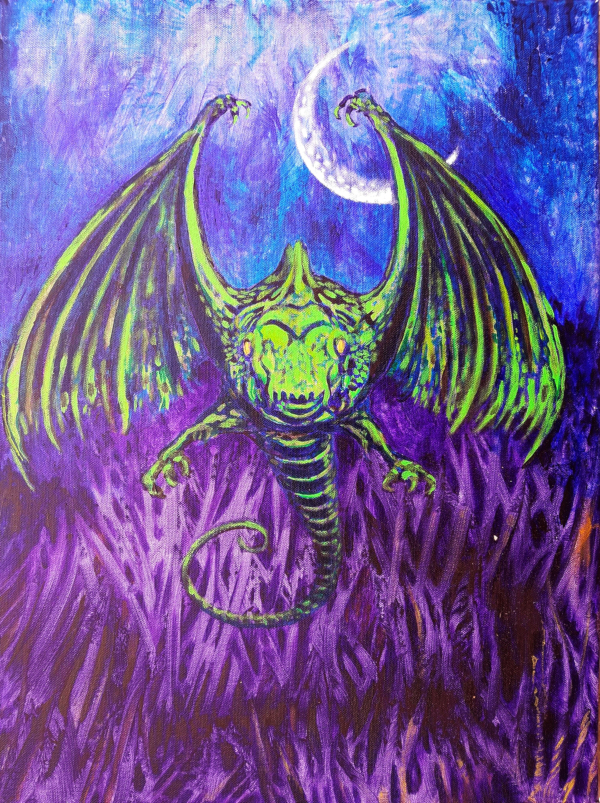 ---

A pulse of alarm rippled through me — that sound.
I was sitting at my desk when I heard it — a strange kind of scraping. We'd long since put the children to bed, my wife had departed with a kiss on the cheek and the servants had retired to their quarters. It was only the light of my study that glowed in the dark dreaming house, like a ship on dark waters ablaze with a single lantern.
I continued writing — enjoying the tactile scratch of quill on parchment, my books stacked around me like old companions, sometimes flipping open a volume, extracting a line from a marked page, closing it.
But the elegant phrases I angled for seemed to elude me.
I wrote a line but crossed it out. Read back over it. Crossed out more. Put down the quill with a frown. My compendium of fantastic beasts seemed dry and airless, as if it was lacking some essence, some vital life force that lay just beyond my grasp.
"Damn!" I exclaimed.
"Damn," echoed the high pitched voice of Augustus from the perch behind my chair. I turned, and he raised his crest of yellow feathers in greeting. My sulphur-crested cockatoo was far too familiar with my frustrations. I started to write another line but the scraping at the window punctured my concentration and I crossed it out.

I set down my quill and stood up.
Through the window, merely darkness. But there was something outside, something poking around in the shrubbery. I remembered Mr. Rigby's thieving butler and wondered if sinister forces were afoot.

I went to the perch by my desk and offered Augustus my arm. He climbed upwards, his talons digging into my dinner-jacket, until he was perched on my shoulder. From the neighbouring perch I fetched Charlie, my green-plumaged parrot.

Both have been erstwhile companions since my Borneo expedition, and I narrowly escaped headhunters to get them here — but that's another story.
I seized the lantern from the desk and went outside.
Listened. Felt the damp of the new-mown lawn brush my ankles, saw faint stars above a mass of drifting cloud. I followed the smooth line of the hedge with my eyes. Nothing.
Then, a rustle.
From the bushes alongside the house.
I crept closer, holding the lantern aloft, forbidding the shadow with my light.
A rustle again, as if something large were crouching there.
In a strong clear voice much bolder than I felt, I said, "Show yourself!"
A dark shape emerged, stretched up to its full height.
My eyes widened.
It was nearly the height of a man but its features had much more in common with a reptile.

Its skin in the starlight appeared scaly, and it had a pair of wings ending in talons folded up at its sides. Its head was huge and ugly as a fish. The eyes, large and yellow, were fixed on me with an expression I couldn't fathom.

"What are you?" I challenged.

By way of response it spread its limbs wide, revealing tissue-thin wings mottled with pale spots, lifted its head to the sky and began to sing. A deeply resonant strange croon, emerged — filling the night air with sound. The creature's body swayed side to side and it spun around, revealing a ridge of spines along its back.
My mouth opened and closed, as fishlike as it. Augustus made a high pitched inquiring sound from my shoulder.

"I don't understand, I stammered. How —" I had witnessed strange things but this especially perturbed me.
The creature's mouth spread wide in what I could only presume was a grin.
"You've been struggling, haven't you?" It said in the Queen's own English. It folded its wings again and fixed me with its enigmatic smile.
"Yes..." I said slowly.

"You can't seem to find the words."
"True..."
"And you're compiling a book about impossible creatures."
My brows drew together. "How do you know all this?"
"I was sent here to guide you," it said. It stepped forward, spreading its wings wide. "I'm your muse!"
"You," I said squinting up at it. "But — what are you? — I've never seen your ilk."
The creature cocked its head at me.

"To understand me is to destroy me. But know that I'm here."
"Hang on..." I said, the cogs of my mind turning quickly. "You're the missing link... The element I've been searching for all this time."
The creature nodded in understanding.

"Yes," I cried, feeling as if a switch had flicked on and my whole heavy body lit up. "I will put you in the book. I can write a most vivid description!" I started to circle it wonderingly. The dark glossy scales, the pronounced ridges, the curved talons, the slightly amused look that had now come to rest on its face.
"Wait here," I said. "I'm going to wake the children. They would love you."

Its large empathic eyes became touched with a hint of sadness. "I have chosen, for now, to appear only to you."

"But — the children —"

"Sail on with godspeed," it said. Then it fluttered its great bulk into the sky and was gone.
I looked to Charlie on my shoulder.
"Did you see what I just saw?"

He made a little croak of acquiescence.
I looked to Augustus. Both birds appeared unruffled, as if winged, spotted fish-headed reptiles were a perfectly ordinary occurrence.
I returned to my study, where I delineated the creature with the sharp edge of my quill. The words flowed like water poured from a Grecian urn.
Then I crawled into bed beside my slumbering wife. She put a groggy arm around me, said 'mmm,' and returned to dreamland.

In the morning the sun streamed in through the dormer windows, the children filled the halls with their footsteps and high-pitched voices, Doris drank her tea in the window seat, and the cook fixed us pancakes. Everything carried on merrily as always. I saw no signs of disturbance in the shrubbery and the birds fixed me with their ever-knowing stares. I risked certain ridicule if I spoke of it, so I wrote.

About the Author
Malina Douglas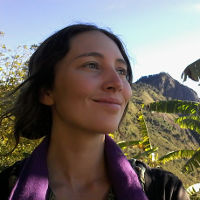 Malina Douglas enjoys spinning stories to thrill and delight.
Her publications include: Metamorphose V2, Indigo: A Western Australian Journal of Writing, Every Second Sunday: A Seoul Writers' Anthology, and the Jungle Age, a website for writers, Writing Writers, Foilate Oak, and the tenth anniversary edition of Consequence Magazine. Her poems have appeared in Sobotka Litmag and will be in the June 2019 issue of Rhythm & Bones.

About the Artist
Michael Connolly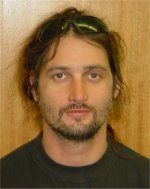 Michael Connolly lives in Bowraville NSW, Australia. He has worked as an art teacher, music teacher, printer and illustrator among other things (such as chicken de-beaker), and has a keen interest in science-fiction and the natural sciences. He has illustrated for the magazine Tabula Rasa, which specialises in the horror genre, and is a regular contributor to AntipodeanSF.