By Umiyuri Katsuyama - Translated by Toshiya Kamei

In the time of the Sui dynasty, a man named Zhao paid a visit to Mount Luofu. Eternal spring reigned over the sacred mountain, but it was early spring according to the lunar calendar.
During the day, the mountain was crowded with hikers and pilgrims to a Taoist temple, but once night fell, a dead silence spread over the area. Zhao wanted to take a stroll and feel the night air. The innkeeper warned him not to go out, saying, "It gets awfully cold out here at night," but he lent him a sleeveless fox-fur coat. Zhao thought the coat would suit a hunter or a woodcutter better, but it felt warm and comfortable once he put it on for his stroll.
After he walked for a while, he reached a clearing with a view into a ravine. He had seen it in the daylight, but it now presented an eerie atmosphere. Half hidden in darkness, strangely shaped rocks soared toward the night sky. It was impossible to gauge the depth of the ravine.
"This must be fairyland," Zhao mumbled in spite of himself. A sweet fragrance tickled his nose. Then he spotted a young woman walking alone with a lantern in her hand. Zhao approached her and introduced himself, saying, "Miss, I don't mean to bother you." He asked her to join him for a chat somewhere quiet. The fragrance belonged to her. She turned him down, saying it wouldn't be appropriate, but she eventually relented when he insisted.
Zhao knocked at the door of a bar that was still lit. The two of them drank liquor, shared food, and talked. A pale beauty, she had almond eyes. Zhao was intoxicated with liquor and her fragrance.
Zhao fell asleep without knowing when and how. When he woke up, he found himself under a large plum tree in full bloom. The moon still lingered in the early morning sky. He found no trace of anyone except the woman's faint scent.
"She must have been a plum spirit," he said to himself.
When Zhao returned to the inn, he recounted his encounter with a woman of otherworldly beauty. While the innkeeper heard Zhao's story, his frown deepened.
"Sir, let me tell you what just happened," the innkeeper said. "You were in grave danger. The woman you say you met was a snow-woman."
"Not a plum spirit? A snow-woman without snow?"
"She got her nickname because she freezes her unsuspecting victims to death."
When Zhao departed, the innkeeper gifted him the fur coat as an amulet against bad luck.
Once back home, he told everyone that he had encountered a plum spirit in Mount Luofu.

About the Author
Umiyuri Katsuyama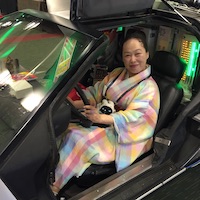 Umiyuri Katsuyama is a multiple-award-winning writer of fantasy and horror, often based on Asian folklore motifs.
A native of Iwate in the far north of Japan, she later moved to Tokyo and studied at Seisen University.
In 2011, she won the Japan Fantasy Novel Award with her novel Sazanami no kuni.
Her most recent novel, Chuushi, ayashii nabe to tabi wo suru, was published in 2018.
Her short fiction has appeared in numerous horror anthologies in Japan.
About the Translator
Toshiya Kamei
Toshiya Kamei holds an MFA in Literary Translation from the University of Arkansas.
His translations have appeared in venues such as Clarkesworld, The Magazine of Fantasy & Science Fiction, and World Literature Today.