By Daniel Verón

Kurt Buchanan walked at a clip through the town's winter streets with his hands tucked into his coat pockets. The few other citizens out braving the cold looked at him like was a madman, because every few seconds Kurt turned back, as if to make sure that nobody was following him, and then resumed his march — a strange sight in this small town now abandoned by so many who'd left to find work in the bigger cities.
Kurt stopped in front of an old two-storey house, his face darkening as the sun was obscured by thick clouds. An icy wind rattled the dwelling's windows and flapped a worn sheet hung over the otherwise open entrance. A name could be distinguished on the moving sheet, "Dr. Mark Richmond Psychiatrist."
Kurt pushed his way through the sheet and climbed a dusty staircase. For a few moments he failed to turn around, his attention perhaps held by the worn steps and peeling walls.
Kurt soon lay on a hard office bed with his eyes open. He was observed by a man with bulging eyes covered by small glasses. The man's hair was unruly and ruffled.
"What's your name?" the man asked.
"Kurt Buchanan."
"How old are you?"
"Forty-three years."
"What do you do?"
"I'm a musician in the Wrightville orchestra. Dammit! Or rather, was a musician, until ...!"
"Explain your problem."
"It's hard. I've never seen a psychiatrist before, I don't know where to start."
"Start, that's all."
"Someone follows me, doctor. He follows me and follows me and never leaves me a minute alone. He is everywhere where I go, because it goes with me. He is here right now!"
"What face does that person have?"
"Well … he has no face, that is … no particular detail … I only see his silhouette. It's like a shadow, doctor, like a shadow …"
"Where is it? Why do you think it is only you that sees it?"
"It hides ... It is always hidden. Everyone has them but they don't realise it! Even yourself, doctor!"
"Do you know how that's possible?"
"He ... it pretends to be my shadow. That thing! It is not solid, it cannot be touched but it is there! He wants to make me believe that it is my shadow, but I have discovered it!"
Dr. Richmond walked a few moments, indifferently, through the room.
"Why did you come here?" he asked at last, gravely.
"Some friends told me that you had studied these things and could guide me."
"What does your shadow want to do?"
"He looks at me ... He watches me all the time, and he wants to kill me; I know."
"How long ago did it appear?"
"Almost a month ago ... a month of nightmare, permanently fleeing."
"Well, that's all I wanted to know, Mr. Buchanan," the psychiatrist finished, getting up from his seat. "Wait a moment, please."
Dr. Richmond went to an adjoining room from which strange, complex mechanical sounds emanated. Minutes later, the psychiatrist emerged with several papers in his hand, some of which he left for himself on a nearby table. The rest he handed to Buchanan and said: "These are the indications as a solution to your problem. I suggest you look at them on the way home. Now. Go, I have to take care of other patients."
Confused, Kurt left the office. He stared at the papers that had been handed to him, which were marked with strangely hypnotic incomprehensible shapes and symbols.
Outside, just as Kurt stepped onto the street, a small car crossed the whole block, from one end to the other in a few seconds. Kurt disappeared under its wheels.
The vehicle went on along. Kurt Buchanan's body lay on the ground crushed, and the street was again deserted.
No one witnessed that event, no human. Nevertheless it was seen by a pair of bulging eyes from behind the curtain in the old house.
And those eyes were the only ones to watch the incredible spectacle as a strange black silhouette detached itself from the inert body and began to crawl towards the house…
***
Richmond, after allowing the passage, ran to the back room and quickly sent the coded message using the computer system.
"Mission 8.531 carried out and at the exact time. Our agent has complied. I just had to help him a little. The invasion continues and we are already preparing a new mission. Faithful to the Master! ... End of message."

About the Author
Daniel Verón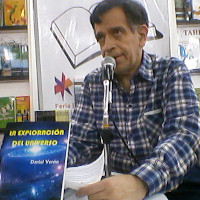 Daniel Verón started writing at the age of ten, and an early story of his was selected for a UNESCO anthology, but he also spent a lot of time researching "space issues" as he was growing up.
He subsequently formed the Enigma Group of Investigation of UFOs and other Mysteries, which for many years produced radio programs on different topics and today owns collection of sci fi sagas, fantasy and terror stories plus essays on scientific topics and the world of the future.
Daniel also gives talks on the sci fi genre and exhibits books at various book fairs. He was recently credited as the creator of "cosmological sci fi" based on discoveries in the field of quantum physics coupled with philosophical speculations to give an explanation of the origin and end of the universe.