By Andrea Teare

Amelia threw away the scoop and used her bare fingers to scrape out the last of the soil. She chose to ignore the pain of the packed earth underneath her fingernails. She sat back on her heels and surveyed the mangled earth before her. A rich loamy smell invaded her nostrils, and she scrubbed her arm across her face, leaving grey trails in a dirty rainbow behind.
It was quiet and deathly still. All life had faded and become silent. She already knew why. Just her own heavy breathing broke the calm, and she tried and failed to ignore the thudding of her heart as it threatened to leap from her chest into the hole she'd put in her world. She let out her breath in a slow whistle and reached towards the small clump of clover that grew out of a square of root-laden earth beside her.
Clover was for Sammy — a presence like a distant foghorn who had saturated her life without overwhelming it. Someone she didn't realise she'd miss till he was gone. 'Come on, Meils.' His boyish face always lit up as he grabbed her hand and dragged her outside. He was the only one who took her away from the never-ending grind of things that needed to be done. 'You do have ten minutes. Mum always says we've got nothing else but time in here.' His tiny voice always seemed too frail for his body, an echo in an emptying room. But nobody had minded — right up until he started foaming and twitching and screaming. Then his voice had been large. Large, loud and unforgettable.

Amelia didn't want to think of him as just a victim. The H9 virus had swept through them like a storm front. Instead she gently, lovingly, placed the clover into the ground and packed the previously excavated earth around it. She brushed her fingers over the delicate green shoots. 'I won't forget,' she whispered, 'I miss you.' A few drops of water and it was done.
Behind her — somewhere in the depths of this microcosm of the real world — Amelia heard the whirr and click of gears, together with the grinding ear-assault that happened so frequently now. Surely enough, the sky in the far corner started to deepen slightly as the end of the day approached. Amelia let her shoulders drop forward. She ached fiercely, inside and out — and in a place she tried to keep stifled, she couldn't wait for it to be over. She turned her attention to the next hole. Deeper, darker: it waited to swallow her next offering.
The gardenia bush had seen better days. It was stunted, and half of it was flat from having grown flush against the dome wall, vainly searching for sunlight. The mystery potion that infused all their water took care of that. Dome plants needed only water. Sunlight was optional, so they'd been told.

Yet sunlight, as it turned out, was necessary for more than photosynthesis.
Noni had started strong, working endlessly to make sure they all had everything they needed. Amelia could hear her voice. 'Let me do that... you know you won't enjoy it as much as I do.' Necessary tasks, like making food for everyone and keeping them all in clothing that wasn't falling apart, Noni accomplished with a smile on her face. Her simple goodness had benefited everyone. The gardenia bush was Noni's joy; a source of happiness as simple as tucking a bloom behind an ear.
Even as Noni's energy had faded, and she drooped and wilted in their artificial safe-house till she could no longer stand, her open heart never wavered. Amelia closed her eyes as she breathed in that scent one final time, dreaming she could hear Noni whispering to her that she should take the time to breathe it in because she'd never know when it could be her last.
'Goodbye, Noni.' Amelia packed earth tightly around the bush, turning its flattened side away from the edge of the dome, letting the generated wind carry gardenia scent across her face and out with the rest of her memories.
It was definitely growing darker now, velvety blue inching closer to the patch of earth Amelia was patting back into place. Her pile of shrubs and seedlings was growing smaller. The ground was filling with memories and beauty — and an occasional tear.
Amelia stretched forward to a shallow hole at the thick base of the dome that was at once her saviour and her captor. She carefully staked a blackberry bush a little way apart from everything else — just as the memory of Jason was segregated as a thorny yet unexpectedly sweet adventure. His intense expressions, his endless belief that the science that had led them all to band together inside the dome would be their saviour. 'This dome will last us fifty years,' he'd said, '...more than enough time for the virus to die out and the world to be safe again.'
When the first of their group had staggered into the common area, vomited blood across his shoes and died in a twitching moaning mass at his feet, Jason had tried to be clinical. 'We knew, coming into this,' he said, 'that some people are stronger than others. It's just natural selection. We have to keep going and it will sort itself out in the next generations.' Even as that first case was followed by another, and another, he'd calmly pressed the button that ejected their remains into the outside world and told Amelia to continue to have faith.
Amelia allowed herself to be pricked by a thorn while she tied the last piece to the top of the stake. By the end of his time Jason had pressed that button so many times it had broken. Since then they'd been forced to prop open the outer door — a heavy metal barrier with red edging that could only be opened from the inside — with a shovel so they could carry and dump the bodies outside.

Amelia closed her eyes and breathed bramble scent. Sweet with a touch of pepper; leaves that shredded into wiry strands under her fingers as she rolled them together. She recalled the slump of Jason's shoulders as the final seven of them had gathered in the dining hall to eat a meagre meal together. He'd dragged his feet along the floor making his shoes squeal, then sat, staring at the dome outside the door. He didn't say a word before rising, ghost-like, and walking out the door of the hall without looking back. Amelia had been the one to find him, swinging from a beam in the research lab, his face blue, arms stiff, with a vacant defeated look in his glazed eyes.

'I wish it had worked as you said,' she whispered, '...and I wish you were still here.'
Amelia knelt down with the last plant. It was growing too dim to see, and in the recesses of her mind she wondered whether it was truly dark outside the dome or if it had all been an illusion. When the H9 virus swept the population twelve years ago, she'd had less than an hour to decide whether or not to join the community inside the bio-dome. A fifty-year pass to see if they could wait out the virus that killed the population so swiftly there was little hope for a cure. Airborne Haemorrhagic Influenza. People never stood a chance.
In her hands was the jasmine cutting she'd taken only a few hours ago — when Rach breathed her last after pulling her close for one last hug.
'Go. Don't stay in here waiting. Meet the world on your feet as it comes and know you went out swinging. There's been nobody banging on the door for years, so you know they are either all dead or all waiting to see if anyone will come out.' Her brown eyes, bloodshot and tired, had searched Amelia's — gently prodding, guiding with her last moments, the mother Amelia had always wanted and only found in the dying hours of a failed biodome society.
She scratched a tiny hole in the dirt near the gardenia bush. She stood the little bundle of leaves and flowers in it, pushing earth at the base until it stood by itself. Tears dripped unasked from her cheeks and wet the ground. She sniffed and tried to breathe in the scent of long-ago summers, of reading with the window open and of wondering where life was going to take her.
Amelia stood, surveying her handiwork, glad that twilight covered the freshly turned earth and made it appear for a moment to be a fully-formed, flowering garden. She hadn't planted anything for herself. Not yet, she thought. I'll come back for that.
She walked away without looking back, pried open the door with the red paint around the edges and slipped out, leaving behind a footprint and a faint smell of summer.

About The Author
Andrea Teare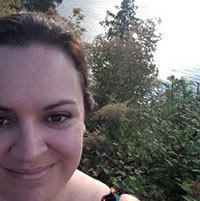 Andrea Teare is an emerging writer from Sydney Australia. She writes Sci-Fi, Horror and Fantasy and has a number of short stories available in anthologies from Horrified Press and The Unfading Daydream.
She is currently working on her first novel.
More about Andrea can be found at her website, <www.andreateare.com.au>.