By Tim Borella

I figured it was going to be either all good or all bad. None of us guessed the president would need a third speech, not the triumphant one about how Americans walked on the moon for the good of all mankind or the sombre one where our brave boys made the ultimate sacrifice, but another one, far more ambiguous in tone. But here we are, and there he'll be, less than an hour from now.
The descent wasn't textbook, but no matter how this goes I'll have that quiet little kernel of pride knowing I did the best anyone could, getting us down safe with less than a half minute of landing fuel left. After shutdown when it was quiet, so quiet, Buzz just looked across at me with a little nod. He wasn't passing judgement on my performance like he usually did — I'd just saved both our lives and he knew it.
Our first priority was to go through the systems and prepare for liftoff, scheduled for a bit less than 24 hours after landing. Everything checked out, so the next planned event was for us to get some sleep, but there was no way. Mission Control protested half-heartedly but they were as keyed up as we were, and so we prepared for the big moment.
Wow, that's all I can say. The sight of the blue Earth rising over that stark horizon, our alien footprints in that superfine dust, Buzz kangaroo-hopping like a schoolkid, Old Glory stuck out proudly on its frame like it's flying in a non-existent breeze — yes, we've done it, and nothing will ever change that.
Just like that, though, our time outside came and went, and we lumbered back up the ladder and through the lock. That's when it all went off the rails.
The moment keeps replaying in my mind.
'Hey, Neil,' says Buzz, in a voice I've never heard from him before.
'Yeah?'
'Take a look at this.'
"Fuck," I say, though I never swear.
'Yeah,' he says.
There was enough ascent fuel when we went out, and it's a simple system. Liquid oxygen gets mixed with methane and goes bang — that's it. Except now there's not enough methane. Frantic but still methodical in our fault-finding, we found the leak but couldn't stop it. That whitish cloud vaporising into the vacuum means we have a decision to make.
We're both smart guys, and we know about the laws of physics. We need acceleration, which is force divided by mass, and when you don't have enough force there's only one thing you can do. With the rate of fuel loss, we have about a half hour before the decision is made for us. Until then, one of us can go, and one will stay behind. No-one can wave a magic wand and save us, not Control, not Mike orbiting in the Command Module.
With stakes this high a man can go to pieces, but we are both staying strong. We've both insisted on being the one to wave goodbye, standing clear of the blast zone watching this tiny metal box fly away and disappear, and then — what? Lie in the dust looking up at the stars until the air's gone, or perhaps crack the helmet to get it over with quickly? If it's me, I won't know until I'm out there.
We both know time's short, and as commander I take the lead. There's only one way to do this. I'm not superstitious but there's something I've brought with me that I started carrying in my flight suit years ago for luck — a pair of dice. I dig them out, shake them in my cupped hand, blow on them.
'Closest to the number goes home,' I say. 'Your call, my friend.'

About the Author
Tim Borella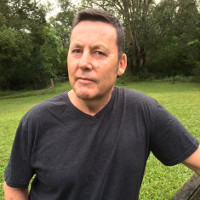 Tim Borella has never lost his childhood passion for SF and writing in general and has been lucky enough to have worked most of his life as a pilot — in other words, he's never properly grown up.
He lives in country Far North Queensland, has won awards for songwriting, and has had various other writing achievements, the most recent being an honourable mention in the 2018 international Literary Taxidermy Short Story Competition.
He also has bachelor degrees in science and teaching, and has completed a couple of as-yet unpublished SF novels. He'd dearly love to spend more time writing, but will have to continue juggling for another couple of years until the kids have fully left the nest.