By Kevin J. Phyland
They dropped me two blocks from the derelict warehouse and left me to make my way on foot.
The radiation signal was very weak but obviously located in the abandoned basement and shielded at least partly. Reaching the building, I forced a rust-riddled door open and jogged to the nearest stairwell and descended to the location pinpointed by the data scan.
The terrorists had messaged CopCom twenty minutes ago with a thirty minute heads-up. Since the object of terrorism is terror it was probably moot for the perpetrators whether the device was authentic or not.
My onboard sensors tickled with increased radiation as I neared the basement area and I knew that this was at the very least a workable dirty bomb and more likely a small yield nuke.
I quickly scanned the room on entering. Five minutes left according to the old analog clock on the wall if the terrorists had been sincere — an assumption not to be trusted.
In the actinic glare of the overhead fluoros my hands were trying not to shake as I carefully pried the dried punk from the recessed screwheads. This was different. Taking the phillips head screwdriver I rotated it feverishly anticlockwise to enable me to remove a piece of the outer casing to get at the device within.
The clockwork mechanism continued its ratcheting as it moved the two sub-critical pieces of uranium-235 inexorably towards each other. Inside the fuel capsule neutrons were whizzing thoughtlessly from piece to piece replacing random uranium atoms with krypton or barium and spewing out energy in the form of radiation.
As the pieces of uranium got closer to each other the number of neutrons escaping lessened and more of them started to create new radiations. If the mass became critical all the material would change pretty much at once with one enormous energy release. This was an obscenity, an atomic weapon, and I now had less than four minutes to disarm it.
This bomb had been designed using mostly non-electronic parts — a clever piece of subterfuge — which precluded simply using magnetic fields or power disrupters to disarm it. My arms were starting to feel warm. Psychosomatic or not, the amount of radiation reaching me now must be giving me some serious rad action.
Three minutes. I removed what I expected to be a klystron housing but it wasn't, and through a tube of plexiglass saw the two pieces of silvery metal sliding slowly towards each other. It was spring-loaded so that the pieces would surge toward each other if the tube was broken. My skin had now reddened and blisters were rising on my hands and fingers. They bled freely.
I paused to consider my next move. The pieces must be kept apart — that was a no-brainer — or those innocuous looking three kilograms of metal would become a five kiloton urban renewal program.
A minute twenty left. I had to give the terrorist points for creativity, as there seemed to be no way for this particular nascent mushroom cloud to have a silver lining without taking at least one victim — me.
There was a buzzing in my ears and my vision started waving with scanlines of interference as the intensity of the emitted beta particles and gamma radiation started interfering with my body's electrical systems.
Only one solution appeared possible.
I took a huge gulp of air and picked up a metal handled corkscrew left by some boozy janitor and, holding it tightly in my fist, smashed it down through the glass between the two pieces of uranium.
The pieces leapt towards one another – but struck either side of my hand – which was keeping a gap of a few centimetres between them, and I flicked the forehand piece away onto the floor.
The radiation would slow and I would probably lose my hand, possibly my eyes and some organs but importantly no big bang.
My sweat dripped freely onto the floor as I collapsed into a chair and signalled for retrieval.
Outside, the city shivered in barely contained fear. Just another day on the front lines.

About the Author
Kevin J. Phyland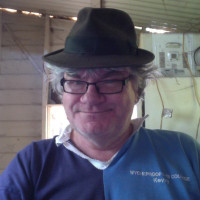 Old enough to just remember the first manned Moon landing, Kevin was so impressed he made science his life.
Retired now from teaching he amuses himself by reading, writing, following his love of weather and correcting people on the internet.
He's been writing since his teens and hopes he will one day get it right.
He can be found on twitter @KevinPhyland where he goes by the handle of CaptainZero and his work is around the place if you search using google or use the antisf.com.au archive.